Powered Crawlspace Vent



Product
Our#:
137109
Mfg:
Lomanco
Mfg#:
PCV1
Availability
In Stock
Powered Crawlspace Vent. Excessive moisture in your foundation, due to poor ventilation may make your home susceptible to an increase in mold, mildew, wood rot and pest/insect infestation.

Our crawl space vent minimizes potential wood decay to your home's foundation. This in turn will decrease wood rot in your crawl spaces and moisture problems in the living area of your home. In addition, the constant air circulation will vent other gases, such as those formed from residues in termite treatment, treated wood, and radon gases.
The crawl space vent creates a powered foundation ventilation system that can be used in both older homes and new construction. The foundation vent fan is designed to be mounted behind any new or existing crawl space vent. Its operation is controlled with a humidistat control which activates the motor at or above 50ºF and is user- adjustable for the varying levels of relative humidity in your crawl space.|
By incorporating the crawl space vent into your home's crawlspace ventilation system, you can help stop mold growth, mildew, rot, pest /insect infestation and decrease high humidity levels while increasing the overall airflow within your foundation. This will help to protect the structure of the house and the health of its occupants.
Powered Crawl Space Vent Selection Guide:
To aid natural crawlspace ventilation, mechanical ventilation should exchange the crawlspace air at least four times an hour or once complete air exchange every 15 minutes. To determine this, multiply the square footage of the crawlspace by the height to calculate the cubic feet of the crawlspace and then divide by 15 to determine the CFM needed to properly ventilate your crawl space.
Formula:
Length x width x height = total cubic feet of crawl space
Divide = total cubic feet of crawl space / 15 = CFM needed for proper foundation ventilation.
Example:
40' x 40' x 2' crawl space = 3200 cubic feet of area
divide 3200 cubic feet by 15 = 213 cubic feet per minute (cfm) of air flow needed to ventilate your crawl space
The Crawl Space Ventilator listed below Is Rated At 110 cfm for each unit. Therefore, 2 units would be required to properly ventilate a crawl space of this size. As with all powered exhaust systems, proper intake air vents should be used. Generally, one air intake vent is recommended as a minimum for air intake. Having 3-4 intake vents would be ideal. These crawl space ventilator should be installed on opposite ends of the intake vents, to allow air movement across the entire space to be ventilated.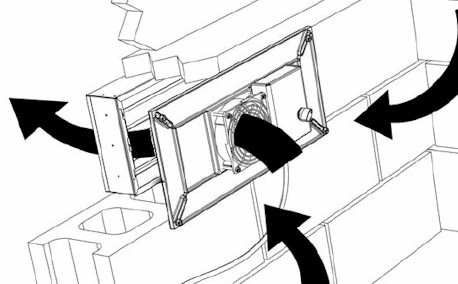 NOTE: diagram shows existing passive exterior vent (not included)

FEATURES:
* Quiet 110 Cfm Ball Bearing Motor
* Super Tough Polypropylene Construction
* Dries Crawlspace Gradually
* Humidity Sensor For Worry Free Operation
* Thermostat Shuts Fan Off At Low Temperatures
* U.L. Approved Means Assured Safety
* Can Help Stop Mold Growth
* Upgrades Your Present Foundation Vent
* Easy Installation In A Variety Of Constructions
* Mounts Behind Foundation Vent For Invisible Operation
* Quick And Simple Solution For Under ventilated Crawlspaces
* One Year Limited Warranty
Dimensions: 9" x 19" x 3"
Each Fan Ventilates: 1650 cubic feet
Opening Size: 8" x 16"
Power Consumption: 120VAC 60Hz 0.2 Amps - 24 watts.
Cord Length: 17"

INSTALLATION INFO:

There should be a grounded electrical outlet within 12" of the control box.
Fans should be placed near the corners of the home and towards the top of the foundation wall. The fans may be attached directly to the concrete blocks or the wood top plate. Hollow wall mounting screws are provided with the PCV1.
The PCV1 requires a 8" x 16" opening which is typically the size of a standard concrete block. Normally there is a brick veneer with a foundation vent installed in front of the wall (exisiting outside vent is not shown in drawing). Instead of an outside vent, bricks may have been 'soldiered' in the front.
From within the crawlspace, hold the PCV1 in place over the opening and mark a place to drill the holes in the block at the upper mounting holes. The motor and control box should be facing the installer in the crawlspace. Drill a hole at
each location using a ¼" masonry bit. Install the hollow wall anchors and attach the PCV1 to the wall using the screws provided. Mark the location for the lower two holes and remove the PCV1. Repeat the drilling and anchor installation
for the lower two holes. Install the PCV1 with the four screws and washers, securing the four corners of the PCV1 to the foundation wall. Plug the unit into an grounded outlet. Install on side of home opposite of prevailing winds if possible.