Airflow Breeze Register Booster Fan (Brown)



Product
Our#:
113043
Mfg:
Airflow
Mfg#:
4X10brown
Availability
In Stock
Airflow Breeze Register Booster Fan (Brown)

Also available in almond finish

This size fits most registers. The product is also available in 4x12 size

The AirFlow Breeze works with your existing central heating and cooling system, drawing additional air to the problem areas in your home.

Once you set your target comfort level, the built-in temperature sensor takes over. It will direct the powerful, yet quiet fan to pull extra warm or cool air out of weak registers, increasing air flow, and delivering the comfort you demand.

By improving the air flow from your existing central heating and cooling system, the AirFlow Breeze provides an affordable alternative to window air conditioners, space heaters, costly attic fans and complex zoning systems.

Increase your comfort, and save money too!
Your furnace and air conditioner bring comfort to your home by moving air through ducts to each room in your house. When the fan from the main system cycles off there is still conditioned air lingering in ducts and crawl spaces. The AirFlow Breeze pulls this conditioned air to your rooms, keeping them more comfortable longer, so your furnace or air conditioner will run less often, lowering your utility bills.

. Size: The AirFlow Breeze is available to fit most standard vent openings - 4" x 10" (register cover measures 11 1/2" x 5 1/2" / insert measures 9 3/4" x 3 7/8").
. Material: Flame-retardant plastic
. Power Requirements: 115 VAC converted to 12VDC 500mA (6' power cord included)
. Power Consumption: 8 Watts
. Fan Speed: The AirFlow Breeze has three fan settings
. Fast Speed 100 cubic feet per minute (cfm)
. Medium Speed 70 cubic feet per minute (cfm)
. Slow Speed 40 cubic feet per minute (cfm)
. Temperature setting range: Heat or Cool
. Vent Finish: Almond
. UL Approved
. Covered by a one year limited warranty from date of purchase
. Comes complete, easy to read instructions.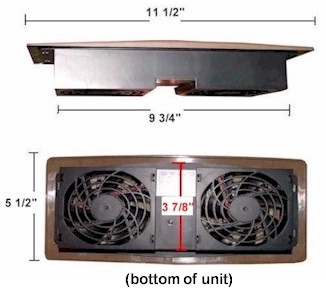 Frequently Asked Questions

Q - Does the AirFlow Breeze product work as a heater or air conditioner?

A - No. The AirFlow Breeze product works as a booster to your existing central heating and cooling system. It will increase the flow of conditioned air to the room.

Q - What results can I expect?

A - Under normal conditions the AirFlow Breeze product can improve the temperature in the "problem" room by 3 to 7 degrees. In most cases, your "problem" room will be at the same temperature as your thermostat setting.

Q - Is the AirFlow Breeze product safe?

A - Yes. The AirFlow Breeze product uses low voltage DC fans similar to the fans used to cool computers. Requiring very little electricity to operate, they are very dependable for long term use.

Q - How much will the AirFlow Breeze product cost to operate?

A - Using low voltage DC fans, the AirFlow Breeze costs mere pennies per month to operate. The estimated annual cost of operation is less than $5 per year.

Q - Can the AirFlow Breeze reduce my utility bills?

A - Yes! Even when your furnace or air conditioner cycles off, the AirFlow Breeze can continue to distribute residual conditioned air from duct work. This will allow you to maintain your comfort level longer between the cycles of your furnace or air conditioner. Also there is no need to adjust the thermostat setting to warm or cool the problem room.

Q - Are there other benefits to installing an AirFlow Breeze?

A - When operated in the "FAN" mode only the AirFlow Breeze will continually circulate the air, keeping the room fresh.

Q - Does the AirFlow Breeze product purify the air?

A - No. The AirFlow Breeze product does not purify or clean the air coming from the central system. However, our soon to be launched AirFlow Pur product will be able improve the air quality before it reaches your rooms. We expect this product to be introduced in late fall of 2006.

Q - Can I use the AirFlow Breeze product in every room in my house?

A - The AirFlow Breeze improves comfort by increasing the air flow to "problem rooms" - ones that are difficult to heat or cool.

With an AirFlow Breeze unit in every room air could be continuously re-circulated throughout. However, this is not an efficient use of the AirFlow Breeze product. If your home requires that level of re-circulation, you probably need to contact an HVAC professional.

Q - Does the AirFlow Breeze product have a warranty?

A - Yes. The AirFlow Breeze product has a one (1) year warranty on defects in workmanship or materials. Click to see warranty details