AirCyclerT Automatic Fan Control - Model FR



Product
Our#:
113016
Mfg:
AirCycler
Mfg#:
FR
Availability
NO LONGER AVAILABLE
The AirCyclerT Model FR is a low-cost device that works with your air handler and low-voltage thermostat. By periodically operating the central heating and cooling system fan, AirCyclerT markedly improves the temperature control, humidity and filtration system in a house. It allows "averaging" of air temperature throughout the house and eliminates stagnant and uncomfortable air that a thermostat can't detect. AirCyclerT is "smart" because it knows when the central system fan operates and activates the fan only after a selected period of time during which the fan has not operated.
BENEFITS:
* Mixes and circulates indoor air
* Eliminates stagnant air
* Creates even temperature and humidity levels throughout the home
* Filters indoor air consistently
* An economical alternative to continuously running the furnace fan
WIRING DIAGRAM: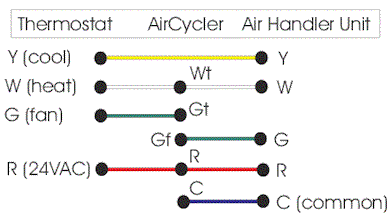 INSTALLATION CONSIDERATIONS:
The AirCyclerT model does not require batteries. It does require 24VAC (R and C terminals) to be connected for proper operation. The AirCyclerT will not operate without these two connections. The wires (R, C, W, and Y) from the air handler to the thermostat can run parallel with the wiring from the AirCyclerT to the air handler. The fan wire (G) needs to be interrupted by the AirCyclerT . Some thermostats do not requitre a (C) connection. The AirCyclerT requires a (C) for power, which needs to be wired to the furnace.
SPECIFICATIONS:
Operating Voltage: 24 VAC (up to 30 VAC max.)
Current draw: 0.07 Amps
Fan ON and OFF delay settings: 1 to 199 minutes in 1 minute increments, plus an unlimited setting for both ON and OFF.
Notes: The AirCyclerT ON/OFF function enables or disables the fan recycling function, but all thermostat control signals operate regardless of the switch position. All outputs protected by a 3A self-resetting fuse, impossible to damage with wiring errors.