3MT Professional Series Respirator Assembly R7511ES, OV/P95 Small



Product
Our#:
112634
Mfg:
3M
Mfg#:
R7511ES, OV/P95
Availability
NO LONGER AVAILABLE
3MT Professional Series Respirator Assembly R7511ES, OV/P95 Small

Small size is designed for children under 10 years old.

3MT 7500 Series Ultimate reusable for comfort and durability - 3M Recommended for: Paint Spray, Pesticide, Organic Vapor (Solvents).

Maximized comfort in air purifying respirators means not only easy breathing filters and cartridges, but also a soft comfortable facepiece. Half facepiece air purifying respirator users can now experience state-of-the-art features that help provide unsurpassed comfort with 3MT 7500 Series Ultimate Reusable Half Facepiece Respirators.

Assembly consists of 3MT Half Facepiece 7501/37081(AAD), Small, 1 each; 3MT Organic Vapor Cartridge 6001, 2 each; 3MT Particulate Filter 5P71/07194(AAD), P95, 4 each; 3MT Retainer 501, 2 each.

3M Recommended for: Paint Spray, Pesticide, Organic Vapor (Solvents) 3M recommended for exposures to organic vapors and mists commonly associated with spray painting, lawn and garden pesticides, staining or refinishing decks and hardwood floors, and many other applications.

This respirator assembly is NIOSH approved for use against certain airborne organic vapors and particles. The 3MT P95 Particulate Filter 5P71 has at least 95% filtration efficiency against solid and liquid aerosols including oil. See insert with product for approval label.

Features:

. 3MT Cool FlowT Exhalation Valve
New valve design helps make breathing easier, and helps reduce heat and moisture buildup in the facepiece.

. New Soft Seal Design
Advanced silicone material provides a softer feel on the face. The unique adjustment design helps reduce tension and pressure points on the face for unsurpassed comfort.

. Dual Mode Head Harness
Unique head harness design adjusts easily so user has the option of wearing the respirator in either traditional or drop-down mode.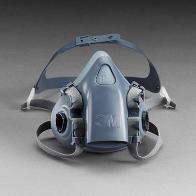 Mask shown out of retail pack without included accessories, product ships with filters and accessories described above.