Fantech Whole House HEPA Filtration System (DM3000P)



Product
Our#:
111342
Mfg:
Fantech
Mfg#:
DM3000P
Availability
No Longer Available

Consumers continue to look for ways to keep their family's home safe and comfortable. Fantech's Whole House HEPA Filtration System features a certified HEPA filter designed to be 99.7% effective at removing particles down to 0.3 microns and larger, which means dust mites, mold spores and viruses are virtually eliminated.
Fantech provides an added solution for better indoor air quality with the Whole House HEPA filtration unit. This small, compact unit installs on the existing ductwork of your furnace/air handler or can be used as an independent system mounted in the attic, crawl space or closet. It is designed to clean and filter the total volume of air in an average 2200 sq. ft. house once an hour. Larger homes will take slightly longer for complete air change. Mold spores,pet dander, cooking odors, dust, dust mites and their by-products are all captured in a series of three filters. The prefilter collects the largest particles while the carbon filter absorbs odors. The third filter is a true, certified HEPA filter which collects particles down to 0.3 microns.

-Cleans the total volume of air in a home each hour (up to 3600 sq ft home)

- Duct mount model features integrated airflow sensor switch which energizes the unit any time furnace/air handler operates. Designed with a backplate that allows direct connection of the unit to air handler or furnace.

-Significantly reduces pet dander, cooking odors and smoke particles

-Powerful 240 CFM fan directs air through three filters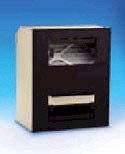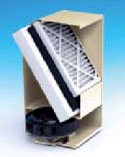 Unit Size
DM3000P - 20" x 16" x 10.5" (2) 5" x 10" ports
Motor:
Powerful German manufactured EBM external rotor motorized impeller with permanently lubricated ball bearings for long life and vibration free operation. Delivers 240 cfm air flow.
Electrical
Prewired with 5' cord and 3-prong plug. 115 volts; 1.0 amps
Filters
Easy to replace. No tools needed. Pre-Filter captures larger particles. Replace every three months Carbon Filter absorbs odors and gases. Replace every three months HEPA filter - 99.97% effective down to 0.3 microns. Specially designed to be the least expensive HEPA filter to replace. Lasts 2 to 5 years depending on proper maintenance of the pre-filters.*
*Homes with a high level of pollutants (such as a heavy smoker) will need to change the filter more often.

Installation
Units easily install horizontally or vertically on the return air side duct of your furnace or air handler. Air is directed through the bypass HEPA which allows the heating/cooling system to easily deliver clean, fresh healthy air throughout the entire home.