AireShare Room-to-Room Ventilator Wall Fan



Product
Our#:
171095
Mfg:
Tjernlund
Mfg#:
AS1
Availability
In Stock
The AireShare room-to-room ventilator makes hot or cold rooms more comfortable. This innovative product is perfect for homes with split systems, or window AC - or for people using space heaters and woodstoves that want more heat in adjacent rooms. The AireShare can be installed in any unobstructed interior wall with studs 16" on center. It uses the cavity between studs to pull cool air from floor level or warm air from ceiling level and distribute it to an adjacent underserved room. Interior use only - not intended for ventilating moisture from bathroom.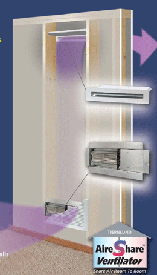 BENEFITS:
Blends with any decor
Classic grille and sleek diffuser
No exposed electrical cords

Whisper Quiet Operation
Low Sone cross flow blower
50% quieter than any other through-wall fan

Easty to install
Quickly installs in interior finished walls
Hardwire and concealed power cord models available

AireShare Components:
* Blower Assembly - fan wheel, motor, electrical junction box
* Intake Grille - goes in front of blower assembly on intake side - 15 3/4" W X 7 3/4"H X 5 /16" D
* Diffuser - scoop design directs air into adjacent room - 13 1/8" W X 3" H X 4" D (requires slot measuring 1 1/4" high x 13 5/8" wide)






SPECIFICATIONS:
Volts: 120
Hertz: 60
Amps: .50 Maximum
Watts: 25
CFM: 75
RPM: 1800
Sound: 42 dB (1.15 Sones)
INSTALLATION NOTES:
* When sawing through sheetrock you must stop if you detect the saw blade coming in contact with any wiring or plumbing. Investigate further to determine if possible to safely still use this wall cavity space. Switch to another stud wall cavity if necessary.
* Determine the stud wall section that you want to use to mount the Blower and Diffuser. It may be preferable to select a stud wall section that contains an electrical outlet for wiring. IMPORTANT: Wall studs must be spaced a minimum of 16" o.c.. Mark inside edges of studs the Aireshare will be installed between and verify there is at least 14" between the inside edges. Slide a stud finder down the wall between the studs to verify the stud wall cavity is completely open.
* Typical installations will have the Diffuser high and the Blower low, but there may be instances where it is desireable to have the Blower mounted high and the Diffuser low to take air from the ceiling level.