Phoenix Solution Amplifier (4026600)



Product
Our#:
112862
Mfg:
Thermastor
Mfg#:
4026600
Availability
NO LONGER AVAILABLE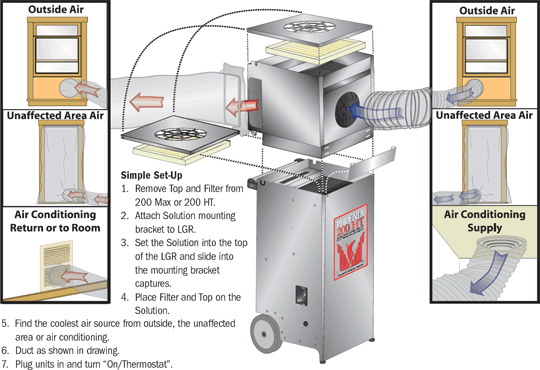 Phoenix Solution
The new Phoenix Solution LGR performance amplifier widens the effective operating range of LGR dehumidifiers, increases grain depression and improves their water removal rates up to 100 percent.

The Solution is a specially designed intercooler that precools the incoming air stream to the LGR dehumidifier. This precooling is the same process that provides LGR dehumidifiers with their leap in performance over conventional dehumidifiers. The Solution is designed to take advantage of outside, unaffected or air conditioned air to provide significant water removal in drying conditions up to 140° F. Therma-Stor and independent testing indicates an increase in water removal and faster drying times using the Solution in even 80° F. drying conditions by utilizing cold outside air or air conditioning.

The Phoenix Solution marks a new era in LGR dehumidifier performance. Since the pre-cooling function of the Solution actually removes BTUs from the drying area, it reduces the dependence on air conditioning and the need to sacrifice drying equipment to maintain your optimal drying conditions. The Solution enables significant dehumidification in even high temperature conditions. This high temperature performance makes the Solution a perfect partner for heat based drying systems. When outside grain levels are high, the Solution allows dehumidification to enhance the drying process.

The Solution improves the grain depression of the dehumidified air. This increases the vapor pressure differential (the key to evaporation) up to 33% and accelerates the drying process. This improves drying times in all classes of water damage but is particularly beneficial in specialty drying applications, such as hardwood floors.

The Solution is designed to nest into the top of the Phoenix HT and 200 Max and is constructed of the same quality materials. The increased operating efficiency of the dehumidifier provided by the Solution is often equal to the 1.6 amp power requirement of the unit. The Solution is easy to carry and stacks for transportation and storage.

Problems Solved by the Phoenix Solution:
Widens the temperature range for LGR performance up to 140° F
Increases water removal rates up to 100%
Increases grain depression up to 33% for faster drying of more materials
Removes BTUs from the affected areas
Achieves optimal drying conditions in structures with insufficient or without air conditioning
Drives the grains/lb. in the drying area from the mid 30's to the low 20's
Enhances the performance of heat based systems when outside grains/lb. or indoor temperatures are high by allowing dehumidification
Phoenix Solution Specifications:
Model: Phoenix Solution (P/N 4026600)
Electrical: 110-120 Vac, 1.6 Amps, grounded
Operating CFM & Temperature Range:
Primary air stream: 300 CFM & 33°F min., 125°F max.
Secondary air stream: 230 CFM & 15°F min., 125°F max.
Duct Connections: 4" x 10" rectangular exhaust; 8" round intake
Warranty: 1 year; 1st year 100% Parts and Labor
Dimensions:
Heighth: 19"
Width:19-1/2"
Depth: 19-1/2"
Weight: 40 lbs
Popular Accessories:
4020177:
8" Insulated Intake Flex Duct
4024935:
Lay-Flat Duct 10" Round x 250' Roll
4022537:
Lay-Flat Duct 10" Round x 500' Roll
*Call 1-866-764-9900 to order accessories.
National Trade Supply
is one of the largest Thermastor Dealers in the United States. We stock the entire Santa Fe family of products and accessories in our own facility providing you with a quicker turnaround time and instant tracking information on your order. We have installed hundreds of units in all types of applications and can offer expert advice on how to properly install yours. We are also an authorized service center for Thermastor products and can offer warranty service and replacement parts.
If you are looking for the best possible dehumidifier and a company who can stand behind it, Thermastor and National Trade Supply is the clear choice.
**Made in the U.S.A.**