Santa Fe Advance Dehumidifier (4029800)



Product
Our#:
112831
Mfg:
Thermastor
Mfg#:
4029800
Availability
No Longer Available
REPLACED BY THE SANTA FE ADVANCE 2
CLICK TO VIEW PRODUCT VIDEO



4029800 (replaces old part 4025699)

The Santa Fe Advance is intended for installation in crawlspaces or basements which experience short- to long-term high humidity conditions, however the attractively designed unit can be placed in almost any residential or business setting where humidity control is desired. The Santa Fe Advance is designed to operate in temperatures between 56°F and 95°F, which typically include lower temperatures found in basements and crawlspaces. In addition, the small physical profile of the unit allows it to be conveniently placed inside height restricted spaces.

The Santa Fe Advance will help maintain the structural integrity of your home, inhibit mold growth, and improve the indoor air quality of your home by removing odor-causing moisture and maintaining 50% or less relative humidity as recommended by the EPA, American Lung Association, and American Medical Association.

Large Capacity: This high capacity dehumidifier removes up to 90 pints of water per day at standard conditions-enough water removal capacity for areas up to 2200 square feet.

Low Temp Operation: The Santa Fe Advance is powerful enough to control humidity even in the cooler environments of crawlspaces. Dehumidifiers are rated for capacity at 80°F and 60% relative humidity. At the cooler, real-life temperatures of a crawlspace, the capacity of conventional dehumidifiers drops dramatically. At temperatures below 65°F, frost forms on the coils of a conventional unit and causes the unit to ice-up. Frost cuts down on air circulation so the unit does not remove as much moisture from the air. Some units have automatic defrost but remove minimal quantities of water in cooler conditions. However, even at regular conditions, the Santa Fe Advance removes more pints of water per day than most dehumidifiers.
MERV-11 Filtration: The Santa Fe Series utilizes a blower rather than a propeller fan allowing the use of high-efficiency air filtration for improved indoor air quality. Standard MERV-11 filtration is 65% efficient at capturing particles from 1.0 to 3.0 microns in size-resulting in effective filtration of most mold spores.
Optional Ductability: When using the optional ducting kit - attaching ductwork to the unit promotes air circulation throughout the crawlspace allowing for the location of the unit by the crawlspace access door for convenience. The unit may also be located remotely when space doesn't allow for placement in the crawlspace.
The unit has 4 leveling feet, an 8' drain hose, and 10' power cord. Optional leveling casters are available to make unit more portable (leveling feet are standard). Separate fan control allows for continuous fan operation or operation only when the unit is actively removing moisture from the air. Humidity control knob allows unit to turn on and off automatically to maintain the humidity level that is ideal for your environment. Washable prefilter. Pleated air filter for finer particle removal.

Condensate drains via gravity from a port on the side of the unit. An optional pump kit can be purchased if water must be moved up and away from the dehumidifier. The pump kit can move water up to the outdoors, over to a sump pit or up to a sink (20 foot lift)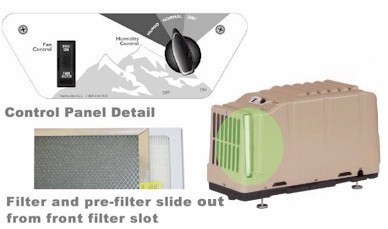 Specifications:
4029800
Blower: 220 CFM @ 0.0" WG
Power: 711 watts @ 80°F and 60% RH
Supply Voltage: 115 volt - 1 phase - 60 Hz
Current Draw: 6.7 Amps
Operating Temp: 56°F Min., 95°F Max.
Minimum Performance at 80°F and 60% RH
Water Removal: 90 Pints/Day
Efficiency: 5.3 Pints/kWh
Energy Factor: 2.5 L/kWh
Air Filter: MERV-11 (standard 65% efficient, ASHRAE dust spot test) 12" X 12" X 1" Nominal Size
Power Cord: 8', 110-120V, Ground
Drain Connections: 3/4" NPT
Drain Hose: 5/8" ID X 8' Direct Gravity Drain Hose
Unit Dimensions: 14.5" W X 19.5" H X 34" L
Shipping Dimensions: 17" W X 20"H X 36" L
Dimensions With Optional Duct Kit: 14.5" W X 23" H X 40.5" L
Unit Weight: 67 lbs
Shipping Weight: 73 lbs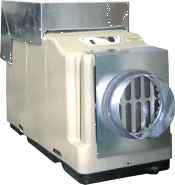 Santa Fe Advance Shown with optional Ducting Kit

The optional ducting capability promotes airflow to remote areas
in crawlspaces. This ducting option also allows the dehumidifier to
be installed in a remote location such as a garage or closet.

* *Made in the U.S.A.**
1 Year Factory Warranty on Materials and Workmanship
5 Year Factory Warranty on Condenser, Evaporator, and Compressor
***Note: Our shipping arrangement for the Santa Fe includes palletizing and shipping via an LTL freight carrier. There is a very high risk of damage when the unit is shipped via a small package carrier such as UPS. This shipping offer includes "to the curb" delivery. Freight carrier will call to set up a delivery window and someone must be present to sign for the delivery.
Click here fot more shipping details on the Santa Fe dehumidifier
---
National Trade Supply, LLC is one of the largest Santa Fe Dealers in the United States. We stock the entire Santa Fe family of products and accessories in our own facility providing you with a quicker turnaround time and instant tracking information on your order. We have installed hundreds of units in all types of applications and can offer expert advice on how to properly install yours. We are also an authorized service center for Santa Fe products and can offer warranty service and replacement parts.
If you are looking for the best possible dehumidifier and a company who can stand behind it, Santa Fe and National Trade Supply is the clear choice.