Airetrak Advantage Programmable Fan / Light Control



Product
Our#:
175462
Mfg:
Tamarack Technologies
Mfg#:
TTi-AtrakAV
Availability
1 Week To Ship
Airetrak Advantage Programmable Fan / Light Control. No other ventilation fan control offers the power and flexibility of the The Airetrak 1A AdvantageT!!

The Airetrak 1A AdvantageT is a microprocessor based timer and fan speed control, controlling ventilation 24 hours a day, every day. The override switch provides full speed operation: Press the override switch to run the fan at full speed for twenty minutes, or press it again to turn it off.

Features a full function 24 hour clock display with independent fan and fan light control. Can switch up to 3.0 amps and has a field replaceable fuse. Choose from a wide range of programming capabilities. Your program is maintained in the event of a power outage and carries a one year warranty. Light Almond color only.

With the Airetrak Advantage, you can:
Program fan to stay on for timed interval after light is turned off
Program fan speed
Program "duty cycle" - or number of minutes per hour the fan will run
Program high speed "override" - or how long the fan will run at full speed when either the Fan/Light or Fan Only button is pressed.

KEY PRODUCT FEATURES:
The ONLY control with an LED clock, programmable fan and light control
Multiple fan cycle, full speed on demand
Operates both bath fan and bath fan light
ASHRAE 62.2/Canadian R2000 compliant
Constantly removes moisture from the bath
Suitable for new or existing construction
One year replacement warranty
Improves indoor air quality
Simple, fast programming
Energy Star capable
ETL Listed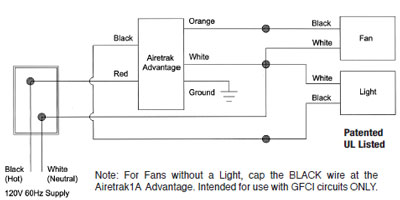 Specifications:
Input . . . . . . . . . . . . . . . . . . .120 VAC 60 Hz
Maximum Power Output . . . . .300 Watts
NOTE: Intended for use with GFCI circuits. Some ventilation equipment should not be used with a solid state speed control. Please check with the manufacturer.