Skuttle Model F60-2 High Capacity Steam Humidifier



Product
Our#:
112773
Mfg:
Skuttle
Mfg#:
F60-2
Availability
In Stock
Skuttle Model F60-2 High Capacity Steam Humidifier. An Excellent Choice for Heat Pumps and High-Efficiency Heating Systems.

NOTE: The F60-2 is a 240V Appliance. Please consult with qualified electrician for installation.

Skuttle..a trusted name since 1917, manufacturers efficient, reliable, affordable Indoor Air Quality products. Skuttle specializes in manufacturing products that make homes comfortable and healthier to live in, the whole year through.

Features:

Thermal fan interlock control allows unit to humidify air without furnace heat
One-piece service drain petcock makes cleaning easy
Uses minimal water
Corrosion-resistant, low water, safety cutoff switch and built-in overflow protection provide peace of mind
Compact size makes unit ideal where space is at a premium
Output capacity of 17.0 gallons per day
Includes intstallation/operating/maintenance instructions, mounting bracket, saftey control shutoff, flushing timer, and chlorine filter
Recent Enhancements to Skuttle Steam Humidifiers include:
A longer, reconfigured heating element which decreases watt density and reduces premature burnout
An extended, two-year warranty on heating element
A safety control shutoff to prevent the humidifier from operating if the furnace blower fails
A mounting bracket that serves as a fixed template and creates a drawer-like frame on the ductwork for easy installation and service.
A 3/8" barbed, brass overflow fitting for fast, secure tubing installation
A 316 stainless steel float to provide improved corrosion resistance
A new, improved flushing time which flushes the humidifier every two hours
Includes SEH-7100-000 "Computsat" humidistat - electronic compensating humidistat which automatically adjusts the humidifier output to compensate for changes in outdoor temperature (outdoor sensor included). It helps prevent over-humidification in the event of a sudden outside temperature drop.|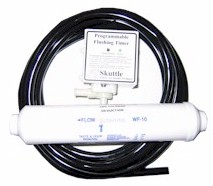 The F60-2 Humidifier includes chlorine filter and self-flushing timer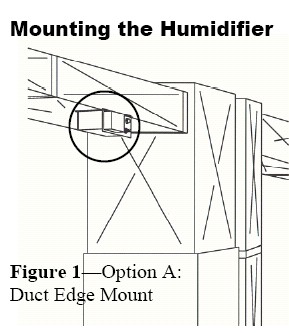 Option A is the preferred method of mounting because it requires the least amount of duct reinforcement to support the humidifier and keep it level. A duct width of at least 10 inches is necessary. Wider ducts may need to be reinforced in order to hold the humidifier level.
Product Specifications:

SQ. FT. AREA - (air changes/hr.)
1,848 loose house (2)
2,576 average house (1)
4,048 tight house (1/2)
Unit Size: 6 7/8" H X 11 7/8" W X 12 5/8" D
Plenum Opening: 10 1/2" x 8"
Water Feed Rate: 5.9 Pounds Per Day / .71 Gallons Per Hour / 17.0 gallons per day at 120 degrees Fahrenheit
Electrical Data: Internal Heating Element - 2.0kw, 240V, 8.3 amps incoloy sheathed element