RadonAway Model XR261 6" Radon Fan



Product
Our#:
176009
Mfg:
RadonAway
Mfg#:
23019-1
Availability
In Stock
RadonAway XR261 Radon Fan


RadonAway Model XR261
6" Radon Fan. This quiet, powerful fan is ideal for most active subslab radon mitigation systems.
75 CFM at 1" W.C. Static Pressure
RadonAway's XR261 is a reliable, effective radon fan suitable for most mitigation jobs. The unique motor and impeller design of RadonAway's XP radon fans make them the most durable general purpose radon mitigation fan on the market.
Note: Choice of fan model is dependent on building characteristics and should be made by a radon professional.
Features:

Five-year limited warranty
Compact size - only 8.5" in diameter
Quiet and attractive
Rated for commercial use
Thermally protected
ETL Listed - for indoor or outdoor use
Made in the USA
Specifications:
Power Consumption - 65-105 Watts
CFM at 0" W.C. - 230
CFM at 1" W.C. - 75
Maximinum Recommended Operating Pressure - 1.6" W.C.
Weight - 7 lbs
Inlet / Outlet - 5.875" OD
Size - 9.5" H X 8.5" X 8.5"
Normal operating temperature range: -20 - 120 degrees F.
Maximum inlet air temperature: 80 degrees F.
Continuous Duty
Class B Insulation
3000 RPM
Thermally protected
Rated for indoor or outdoor use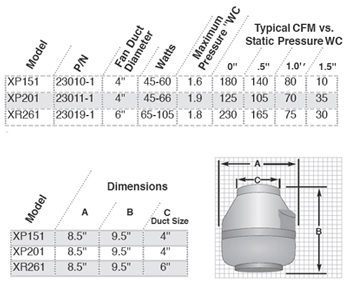 RADON FAN COMPARISON TABLE:
| | | | | | | | | | | | |
| --- | --- | --- | --- | --- | --- | --- | --- | --- | --- | --- | --- |
| Model | Watts | Max Pressure | Duct Dia | .5 | 1 | 1.5 | 2.0 | 2.5 | 3.0 | 3.5 | 4.0 |
| Fantech HP2133 | 14-20 | .84 | 4" | 60 | 0 | 0 | 0 | 0 | 0 | 0 | 0 |
| Fantech HP2190 | 60-95 | 1.93 | 4" | 138 | 81 | 35 | 0 | 0 | 0 | 0 | 0 |
| Fantech HP190 | 60-85 | 2.01 | 4.5" | 123 | 89 | 45 | 0 | 0 | 0 | 0 | 0 |
| Fantech HP220 | 85-152 | 2.46 | 6" | 260 | 193 | 58 | 15 | 0 | 0 | 0 | 0 |
| Fantech HP190SL | 140 | 2.2 | 4" | 133 | 103 | 76 | 27 | 0 | 0 | 0 | 0 |
| RadonAway GP201 | 40-60 | 2.0 | 3" | 0 | 82 | 58 | 5 | 0 | 0 | 0 | 0 |
| RadonAway GP301 | 55-90 | 2.6 | 3" | 0 | 92 | 77 | 45 | 10 | 0 | 0 | 0 |
| RadonAway GP501 | 70-140 | 4.2 | 3" | 0 | 95 | 87 | 80 | 70 | 57 | 30 | 5 |
| RadonAway RP145 | 37-71 | 2.0 | 4" | 132 | 94 | 55 | 11 | 0 | 0 | 0 | 0 |
| RadonAWay XP151 | 45-60 | 1.3 | 4" | 140 | 78 | 10 | 0 | 0 | 0 | 0 | 0 |
| RadonAway RP265 | 86-140 | 2.5 | 6" | 260 | 207 | 139 | 57 | 0 | 0 | 0 | 0 |
| RadonAway XP201 | 45-66 | 1.9 | 4" | 110 | 74 | 38 | 20 | 0 | 0 | 0 | 0 |
| Suncourt TF104W | 40-60 | 1.5 | 4" | 145 | 90 | 35 | 0 | 0 | 0 | 0 | 0 |
| RadonAway RP140 | 14-20 | .8 | 4" | 68 | 0 | 0 | 0 | 0 | 0 | 0 | 0 |
| RadonAway XR261 | 65-105 | 1.8 | 6" | 165 | 75 | 30 | 0 | 0 | 0 | 0 | 0 |
| RadonAway GP500 | 70-130 | 4.3 | 3" | 0 | 88 | 80 | 74 | 65 | 54 | 28 | 14 |
| RadonAway SF180 | 53-71 | 1.7 | 4" | 127 | 96 | 61 | 0 | 0 | 0 | 0 | 0 |
Static Pressure - inches of water