Snap In Light Module for P&S Switches - TM8LMCC



Product
Our#:
113593
Mfg:
P&S
Mfg#:
TM8LMCC
Availability
NO LONGER AVAILABLE
Snap In Light Module for P&S Switches - TM8LMCC

This snap-in light module makes your switch easier to find in a dark room. The LED light turns on when the switch is off.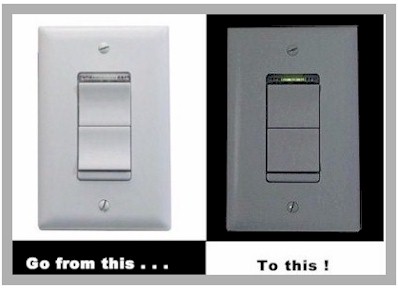 FEATURES:
* Module simply snaps-in for easy installation.
* Lights when OFF.
* Uses energy-efficient 1/4 watt LED light.
* LED light will not generate heat and will last on average 47 years.

It easily snaps into a slot on the following switches:
TM811-WCC, TM811-ICC - installs adjacent to upper switch

TM8111-WCC, TM8111-ICC, LSDV25-WV, LSDV25-IV - installs adjacent to lower switch, or at the bottom of speed controls

TM81111-WCC, TM81111-ICC - installs adjacent to 2 upper switches (light connected to upper left switch.