Dual Function Fan/Light Control Switch With Function ID Modules - Ivory - TM811-ICC



Product
Our#:
113547
Mfg:
P&S
Mfg#:
TM811-ICC
Availability
NO LONGER AVAILABLE
Dual Function Fan/Light Control Switch With Function ID Modules - Ivory - TM811-ICC

This switch allows control of two functions in one single-gang box. Comes with innovative identification modules which easily snap into the switch. With these modules - there is no guesswork about switch function (fan, light, or heater). ID plates may also be left blank.

* Impact-resistant face and body.
* Fully rounded back body protects wires from being damaged by sharp edges.
* Clear identification of circuits.
* External screw-pressure-plate back and side wired. Accepts #12 and #14 AWG.
* Ground screw position under the end of the strap minimizes the risk of contact.
* Full wraparound metal strap with lock-in tabs.
* Patented split circuit tab - easily accessible, and can be reinstalled without a tool.
* Unique "Up/Down" switches match the look and feel of standard Decorator switches.
* All screws are tri-drive.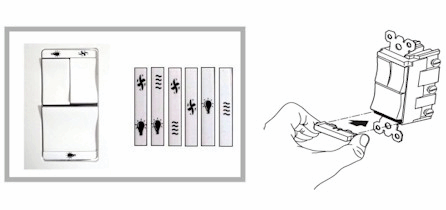 Close up of switch with fan and light ID modules - a set of 6 modules come with switch

ID modules can also be left blank