DH 50 Compact Desiccant Dehumidifier



Product
Our#:
151075
Mfg:
Novel Aire
Mfg#:
DH 50
Availability
NO LONGER AVAILABLE
The DH 55 desiccant dehumidifier was developed specifically for military storage applications. The unit produces dry air to prevent corrosion, increase readiness, reduce maintenance, and improve Mean Time Between Failure (MTBF) for electronic systems.
DH 50 is typically used for display cases, or other small areas. When mounted, the discharge air and regeneration air components would be separated (example - unit would be mounted within a wall).
Operation:
The operation of the DH 50 desiccant system is based on two counter current air streams flowing through the wheel. Return air from the conditioned space is drawn through the rotating desiccant wheel. The desiccant absorbs moisture from the air stream and the dry supply air is returned to the conditioned space. The moisture containing portion of the wheel rotates into the regeneration section. The desiccant released the absorbed moisture into the heated regeneration air stream which is then exhausted to the outside.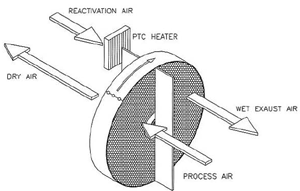 FEATURES:
Compact Design - 14.5" x 14.5" x 9.5" and weights only 27 lbs.
High Capacity - delivers 50 scfm and removed 28.6 of water/24 hours at 90 degrees
Solid Construction - built with rugged aluminum frame and panel construction all anodized back.
Utilities - can be configured for 115v/60Hz or 220v/ 50/60 Hz, 1 phas. Power required - .935 Watts
Control Panel - simple on-off switch with integral humidistat control
Static Pressure: .45 in wc (process and reactivation)