Zone Heat Duct Heater / Airflow Booster



Product
Our#:
174088
Mfg:
Jackson Systems
Mfg#:
HP6-1440120
Availability
NO LONGER AVAILABLE
Zone Heat Duct Heater / Airflow Booster - The solution for rooms that are too cold or too hot.

This innovative product installs in any circular 6" HVAC duct run. It is controlled via an individual heating/cooling thermostat. To install - remove a section of your 6" duct run (approx. 14" section), replace the missing section of duct with the Zone Heat and the included flexible boot. Bring 120 volt power to the unit. Wire the low voltage thermostat between the living space and the Zone Heat.

- Heating is achieved by energizing a 120 volt, 1,440 watt heating element which uses it's own internal fan to bring the spaced being conditioned to the desired temperature.

- Cooling is achieved through enhanced airflow performance by using the same fan to deliver conditioned air from the main duct and/or other conditioned areas.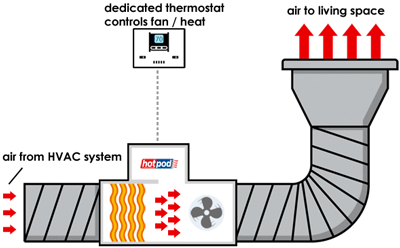 Package includes:
(1) Zone Heat Duct Heater / Airflow Booster
(1) Flexible Boot for easy installation
(1) Basic, non-programmable 1 Heat/1 Cool Thermostat (battery operated)
Zone Heat is a great solution for rooms that always seem too cold or hot - especially room additions and other spaces at the end of long duct runs. Use Zone Heat in:


Offices
Family Rooms
Nursery or Child's Rooms
Bathrooms
Finished Basements
Room Additions
Any room where better temperature control is required
Why Use Zone Heat?


Quick and easy install with no complicated ductwork or wiring
Economical alternative to conventional zoning
Energy saving device to lower utility bills
Can be used as backup heating system
Delivers a powerful 120 CFM at an extremely quiet 46 decibels
Extremely high quality product - Made in the USA
Safety - product is UL listed and includes built-in thermal cutoff switch
Installs in horizontal position ONLY
Specifications:
Duct Diameter - 6"
Length - 10.5"
Input Power - 120VAC, 60hZ
Fan Wattage - 32 watts
Heater Wattage - 1,440 (requires dedicated 15 AMP circuit)
BTU Rating - 5,000 (can also be wired for 720-watt/2,500 BTU operation)
Amp Draw - 14 Amps
Heater Output - 45 degree F Temperature Rise
Static Pressure - .05 - .07 W.G.
Construction - 22 gauge steel
Finish - High gloss enamel

Minimum Distance to register - 48"