Turtl™ Deluxe Crawlspace Access System - Brown



Product
Our#:
175256
Mfg:
IAQ
Mfg#:
05501
Availability
1 Week To Ship
Turtl™ Deluxe Crawlspace Access System - Brown

Crawl space access wells are usually ugly and deteriorated; they let in rain, leaves and debris. Additionally, their doors usually rot and do not have an airtight seal. The Turtl™ is a crawl space access well AND door combined. The Turtl™ solves these problems! The TurtlT keeps rain, leaves and debris out. Most importantly The TurtlT is airtight and watertight.

The Turtl™ is designed to provide a clean, convenient access to your below-grade crawl space. It's made from rigid plastic, so it won't corrode or rot. The Turtl™ is durable & built to last.


Features:

Available in three attractive colors (green, brown, and beige)
Made of tough plastic - will not corrode or rot
Quick and easy to install.
Protects your crawl space from moisture and water damage
Provides easy access to your crawl space
Built to last, and designed to be safe and attractive
Appropriate for new or replacement crawl space installations
Eliminates the need for a crawl space door and access pit
Lockable for added security

Products that are currently used in the crawl space entry are prone to developing problems shortly after installation. The problems include steel doors that rust or stick, wood doors that rot over time leading to leaks, mold, mildew and bug infestations.

The TurtlT solves these problems and protects your home from water and moisture damage, keeping your crawl space safe, clean, and dry. The all vinyl construction is attractive, tough, and easy to install.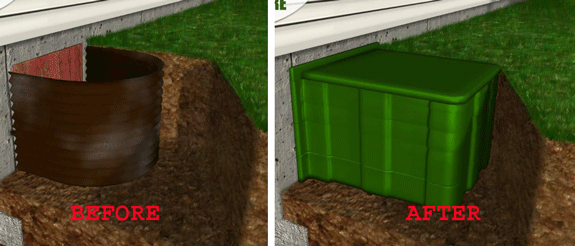 TurtlT Installation:
* Excavate a hole for TurtlT (approximately 52" X 48" X 24") removing dirt 6" Below bottom of opening
* Fill hole with compacted granular fill and level to height of opening
* Fit TurtlT into opening - and fasten to building foundation per steps in installation guide, using caulk and supplied mounting hardware
* Install TurtlT lid onto main unit and fasten to building foundation
* Backfill with granular fill starting from the back then fill last 1/3 with top soil to yard grade

Dimensions (detailed drawings here):
26.62" high
41.87" wide (32.77" wide at narrowest point at front)
37.3" deep (44.98" total depth including flange and feeds into foundation)
NOTE: This unit fits most crawl access points - taller unit with elevation ring also available with hight of 32.62")


---
The TurtlT is large and must ship via freight carrier. The cost of shipping is included in the product. Make sure you read about shipping policies by CLICKING HERE.