Honeywell VisionPro IAQ Programmable Universal Thermostat with Total Home Comfort Control



Product
Our#:
110092
Mfg:
Honeywell
Mfg#:
YTH9421C1002
Availability
NO LONGER AVAILABLE
Honeywell VisionPro IAQ Programmable MultiStage Thermostat with Total Home Comfort (YTH9421C1002)
. Contains all features of standard VisionPRO, except arm chair programming.
. Thermostat connects with Equipment Interface Module to control temperature, humidification, dehumidification and ventilation from a single point in the home.
Only 3 wires run from thermostat to equipment interface module (EIM), making retrofitting an old thermostat a snap!
. Can control whole house humidifier and automatically raises humidity levels throughout all rooms in the home, moisturizing air to prevent symptoms of dryness and to protect hardwood flooring and woodwork.
. Can control whole house dehumidifier, and automatically lowers humidity levels through al rooms in the home, utilizing air conditioning or a whole house dehumidifier to prevent dampness, stickiness or odors; symptoms often associated with air that is too moist.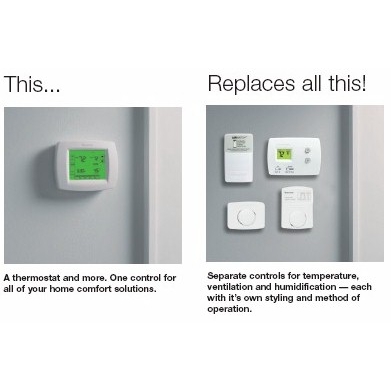 Application -
Conventional and Heat Pump systems
Programmability -
Universal Programming from 7 Day to Non-Programmable
Changeover -
Auto or Manual
Color -
Premier White®
Switch Positions (System) -
HEAT-OFF-COOL-AUTO-EM.HEAT
Switch Positions (Fan) -
AUTO-ON-CIRC
Power Method -
Power supplied by EIM
Terminal Designations -
1, 2, 3, C, R, Rc, Rh, R, W1-O/B, W2-Aux, W3-Aux2, Y, Y2, G, L, Out1, Out2, In1, In2, Dats1, Dats2, Hum1, Hum2, Dhm1, Dhm2, Vnt1, Vnt2
Dimensions (in.) -
4 9/16 in. high x 6 in. wide x 1 1/4 in. deep
Dimensions (mm) -
116 mm high x 152 mm wide x 32 mm deep
Electrical Ratings -
20 to 30 Vac
Setting Temperature Range (F) -
Heat: 40 F to 90 F; Cool: 50 F to 99 F
Setting Temperature Range (C) -
Heat: 4.5 C to 32 C; Cool: 10 C to 37 C
Differential Temperature (F) -
± 1 F
Differential Temperature (C) -
±0.5 C
Stages -
Up to 4 Heat/2 Cool
Outdoor Sensor -
Yes, optional
Discharge Sensor -
Yes, optional
Remote Sensor -
Yes, optional
Sensor Element -
Thermistor
Currents (Heating) -
1.0 A running
Currents (Cooling) -
1.0 A running
Currents (Fan) -
0.6A running
Operating Humidity Range (% RH) -
5 to 90% RH, non-condensing
Includes TH9421C1004 Thermostat and THM5421C1008 Equipment Interface Module
Comments -
Includes Humidification Control with or without Frost Protection, Dehumidification using Whole House Dehumidifier or Air Conditioning with High or Low speed fan, Advanced Patented Ventilation Control and Advanced Dual Fuel Heat Pump Control.
Humidification Setting Range -
10 to 60% RH.
Dehumidification Setting Range -
40 to 80% RH.