Honeywell Return Grille Replacement Filter FC40R1003 20" x 20"
(case of 2 Filters)



Product
Our#:
112921
Mfg:
Honeywell
Mfg#:
FC40R1003
Availability
In Stock
2-pack Original Factory Replacement FC40R1003

20" x 20" (actual size 19 3/4" X 19 3/4" X 3")
NOTE: Honeywell is now making this filter in 3" depth (formerly 4-3/8"). The have increased the pleat count on the filter to match the performance of the old design.

MERV 10

Replaces older Honeywell model number F35R.

The FC40R Return Grille Filter is a high-efficiency, long-life replacement for return grille applications. It captures a significant amount of the airborne particles in the air that circulate through the filter. (Honeywell recommends allowing a depth of seven inches behind the grille to provide space for the deeper filter and airflow through the filter.)
Honeywell recommends changing your filter once a year. It may be necessary to replace it sooner depending on the conditions in your home.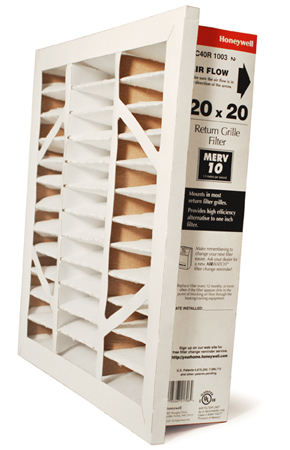 Filter features 1" lip around upstream side


FEATURES
. Mounts in most third party return filter grilles (features integral gasket around upstream side of filter).
. Provides high-efficiency alternative to one-inch filter.
. Captures particles as small as 0.3 micron.
. Pleated filter for greater media capacity.
. Easy installation. Pre-assembled filter easily inserts into and out of existing return grille.
. Exclusive frame design nests properly into place.
. Low pressure drop reduces strain on equipment, provides a comfortable air flow and maintains equipment efficiency longer than standard filters.