FiresideFriend Wireless Fireplace Remote Control / Thermostat - 3003



Product
Our#:
177184
Mfg:
FiresideFriend
Mfg#:
3003
Availability
NO LONGER AVAILABLE
FiresideFriend Wireless Fireplace Remote Control / Thermostat - 3003

This product is designed to work with millivolt valve (RN) or electronic ignition (EN) fireplaces. If your fireplace uses a simple on/off switch on the wall - this unit will likely work for you.

A gas fireplace provides great ambience and warmth to your home. Wouldn't it be nice to control your fireplace with a thermostat instead of an on/off switch? The 3003 adds the functionality of a wireless thermostat but can also be operated manually. It also includes an adjustable countdown timer - which will turn of the fireplace automatically - even when you aren't there.
The 3003 remote control thermostat was developed to provide a safe, reliable and user-friendly remote control system for gas fireplaces. This all battery system operates independently of household current. The system can be operated thermostatically or manually from the transmitter. The system operates on radio frequencies (RF) within a 20' range using non-directional signals. This remote control system was developed to provide safe, reliable, and user-friendly remote control system for gas heating appliances. The system operates on one of 1,048,576 security codes that are programmed into the transmitter at the factory.
Features:
All battery operated - R.F.
LCD displays both room and set temperature in °F or °C
9-hour countdown timer
Adjustable temperature swing (differential) setting
24-hour clock
Flame icon and low battery indicator
Low battery indicator
Childproof lockout feature
All batteries included
INSTALLATION:
The easiest installation involves replacing your existing wall switch with the included receiver module (see diagram below). This done by removing the cover plate on existing on/off switch, removing switch, and attaching low voltage wiring to the receiver wiring block. The receiver then nests inside the junction box where the old switch used to be. The remote receiver can also be placed on the fireplace hearth or under the fireplace, behind the control access panel. We find that the wall mount installation is the easiest option for a homeowner.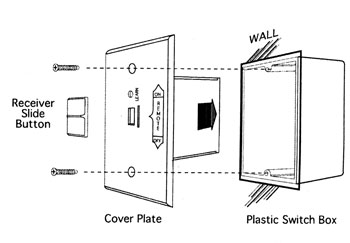 Specifications:
Transmitter (remote) uses (2) AAA alkaline batteries (included)
Receiver uses (4) AA alkaline batteries (included)
Transmission range - 20 feet
Operating frequency - 303.8 MHz