FiresideFriend Wireless Fireplace Control -1001-A



Product
Our#:
177177
Mfg:
FiresideFriend
Mfg#:
1001-A
Availability
NO LONGER AVAILABLE
FiresideFriend Fireplace Wireless Remote Control -1001-A

This product is designed to work with millivolt valve (RN) or electronic ignition (EN) fireplaces. If your fireplace uses a simple on/off switch on the wall - this unit will likely work for you.

A gas fireplace can provide great ambience and warmth on a cold winter night. Once you are warm and toasty - and about to fall asleep on the couch - wouldn't it be nice to switch your fireplace off without having to get up? This product provides a simple solution, and allows you to turn your fireplace on and off via a small hand-held remote control!

The 1001-A remote control system was developed to provide a safe, reliable and user-friendly remote control system for gas fireplaces. This all battery system operates independently of household current. The system operates on radio frequencies with nondirectional signals. This remote control system was developed to provide safe, reliable, and user-friendly remote control system for gas heating appliances. The system can be operated manually from the transmitter. The system operates on one of 65,536 security codes that are programmed into the transmitter at the factory.
Features:

All battery operated - R.F.
Simple 2-button ON/OFF transmitter
65,536 security codes
All batteries and wall clip included
Receiver with learn function, snap-on wall plate and wires with connectors
Receivers will learn up to TWO additional ON/OFF transmitters
INSTALLATION:
The easiest installation involves replacing your existing wall switch with the included receiver module (see diagram below). This done by removing the cover plate on existing on/off switch, removing switch, and attaching low voltage wiring to the receiver wiring block. The receiver then nests inside the junction box where the old switch used to be. The remote receiver can also be placed on the fireplace hearth or under the fireplace, behind the control access panel. We find that the wall mount installation is the easiest option for a homeowner.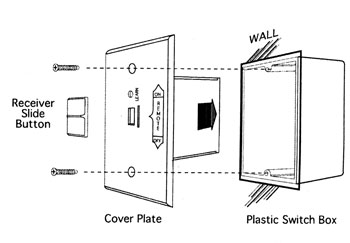 Specifications:
Dimensions: - Remote: 5 3/8" x 1 9/16" x 11/16"
Operating Frequency: 303.875 MHz
Remote Range: 25 Feet
Transmitter operates on 12V (A23) Battery (included)
Receiver operates on (4) AA Batteries (included)
Limited Lifetime Warranty through manufacturer