Fantech RVF8XL Wall Mounted Exterior Centrifugal Fan - 392 CFM



Product
Our#:
111099
Mfg:
Fantech
Mfg#:
RVF8XL
Availability
In Stock
RVF 8XL for 8 inch duct:

CFM at 0" WC - 435
CFM at .2" WC - 392
Amps - 1.42
Watts - 151Free your interior space Maximize your ventilation
From conference rooms to bathrooms, RVF fans are the perfect way to free up valuable interior space. With duct diameters ranging from 4" to 8", Fantech's RVF Series fans move a lot of air while maintaining whisper quiet interior noise levels.
Get connected with ease
Fantech RVF Series fans are lightweight, compact, and simple to install. No installation extras are required. Just mount the fan to the wall and connect the electrical supply to the conveniently located terminal box. The housing is removable for immediate access to the motor and wiring connections.
Rugged features help RVF fans withstand the elements:
- Galvanized steel housing features baked powder-coat finish (can be painted to match decor)
- External rotor motor with totally enclosed design allows fans to operate in high moisture, lint and dust laden air
- Split capacitor motors feature automatic reset thermal overload protection and sealed ball bearings for long life and maintenance-free operation
- All motors and impellers are designed as one integral unit, allowing for excellent motor heat dissipation, even at low RPM
- Permanently lubricated sealed ball bearings
- Solid-state speed control for infinitely variable, highly efficient and economical airflow
- Excellent heat dissipation, ensuring long motor life
- HVI certified
- Suitable for airstream temperatures of up to 140° F
- Tested and approved by UL, CSA, or equals
- Five-year factory warranty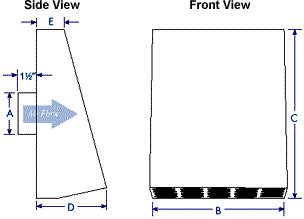 A=8"
B=14 1/4"
C=17"
D=6"
E=2 3/4"