Fantech HP2190 Small Radon Mitigation Fan for 4" Duct - HP 2190



Product
Our#:
171361
Mfg:
Fantech
Mfg#:
HP2190
Availability
NO LONGER AVAILABLE
Click here for fan comparison guide
CLICK HERE FOR RADON TEST KITS
Fantech Radon Mitigation Fan -
4" Duct
(HP 2190)
163 CFM at 0"WC Static Pressure / 81 CFM at 1" WC Static Pressure
Fantech Radon Mitigation Fan - (HP 2190) - Performance like the HP190 but in a smaller housing. Performance suitable for the majority of installations. Choice of model is dependent on building characteristics and should be made by a radon professional.
For over 10 years Fantech has manufactured quality mitigation fans for radon applications. With over one million radon installations worldwide and the reputation for establishing new standards of performance and value your contractor has selected the finest fan for your family's protection.
Every Fantech Radon Fan is fully caulked as necessary to ensure optimum performance and durability. All fans are UL rated for outside installations.
Experts all agree that radon is everywhere. A naturally occurring radioactive gas, Radon in low concentrations is harmless. In todays better insulated homes however, radon can accumulate to harmful levels. Your first step in determining the radon level of your home is to test your home. Test kits can be purchased at a number of locations in your town or city. (If you have difficulty, contact your local EPA office and they will assist you).
Once you have tested your home and find that you have dangerous or elevated amounts of radon present you need to consider radon mitigation. In your selection of a contractor make sure he is offering Fantech radon mitigation fans as part of your solution.
Fantech HP Series Fans Provide the Solutions to meet the challenges of Radon applications:
HOUSING:
. UV resistant, UL listed durable plastic
. UL Listed for use in commercial applications
. Factory sealed to prevent leakage
. Watertight electrical terminal box
. Approved for mounting in wet locations - i.e. Outdoors
MOTOR
. Totally enclosed for protection
. High efficiency EBM motorized impeller
. Automatic reset thermal overload protection
. Average life expectancy of 7-10 years under continuous load conditions
RELIABILITY
. Five Year Full Factory Warranty
. Over 1,000,000 successful radon installations worldwide
RADON FAN COMPARISON TABLE:
| | | | | | | | | | | | |
| --- | --- | --- | --- | --- | --- | --- | --- | --- | --- | --- | --- |
| Model | Watts | Max Pressure | Duct Dia | .5 | 1 | 1.5 | 2.0 | 2.5 | 3.0 | 3.5 | 4.0 |
| Fantech HP2133 | 14-20 | .84 | 4" | 60 | 0 | 0 | 0 | 0 | 0 | 0 | 0 |
| Fantech HP2190 | 60-95 | 1.93 | 4" | 138 | 81 | 35 | 0 | 0 | 0 | 0 | 0 |
| Fantech HP190 | 60-85 | 2.01 | 4.5" | 123 | 89 | 45 | 0 | 0 | 0 | 0 | 0 |
| Fantech HP220 | 85-152 | 2.46 | 6" | 260 | 193 | 58 | 15 | 0 | 0 | 0 | 0 |
| Fantech HP190SL | 140 | 2.2 | 4" | 133 | 103 | 76 | 27 | 0 | 0 | 0 | 0 |
| RadonAway GP201 | 40-60 | 2.0 | 3" | 0 | 82 | 58 | 5 | 0 | 0 | 0 | 0 |
| RadonAway GP301 | 55-90 | 2.6 | 3" | 0 | 92 | 77 | 45 | 10 | 0 | 0 | 0 |
| RadonAway GP501 | 70-140 | 4.2 | 3" | 0 | 95 | 87 | 80 | 70 | 57 | 30 | 5 |
| RadonAway RP145 | 37-71 | 2.0 | 4" | 132 | 94 | 55 | 11 | 0 | 0 | 0 | 0 |
| RadonAWay XP151 | 45-60 | 1.3 | 4" | 140 | 78 | 10 | 0 | 0 | 0 | 0 | 0 |
| RadonAway RP265 | 86-140 | 2.5 | 6" | 260 | 207 | 139 | 57 | 0 | 0 | 0 | 0 |
| RadonAway XP201 | 45-66 | 1.9 | 4" | 110 | 74 | 38 | 20 | 0 | 0 | 0 | 0 |
| Suncourt TF104W | 40-60 | 1.5 | 4" | 145 | 90 | 35 | 0 | 0 | 0 | 0 | 0 |
| RadonAway RP140 | 14-20 | .8 | 4" | 68 | 0 | 0 | 0 | 0 | 0 | 0 | 0 |
| RadonAway XR261 | 65-105 | 1.8 | 6" | 165 | 75 | 30 | 0 | 0 | 0 | 0 | 0 |
| RadonAway GP500 | 70-130 | 4.3 | 3" | 0 | 88 | 80 | 74 | 65 | 54 | 28 | 14 |
| RadonAway SF180 | 53-71 | 1.7 | 4" | 127 | 96 | 61 | 0 | 0 | 0 | 0 | 0 |
Static Pressure - inches of water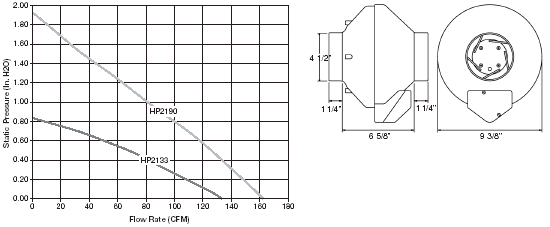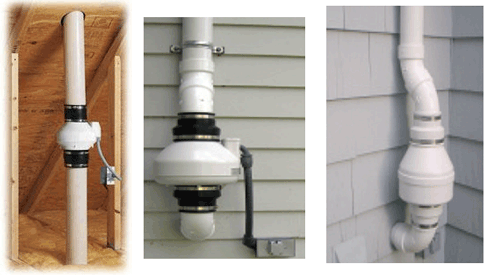 Fans are attached to PVC pipe using flexible couplings