Fantech Electronic Push Button Timer (FD 60EM)



Product
Our#:
112149
Mfg:
Fantech
Mfg#:
FD60EM
Availability
In Stock
FD60EM Electronic Timer (AKA LTB601LZ)

Electronic push button timer. Select from 10, 20, 30 and 60 minute timed operation of fan. Includes Decora style white switch plate and screws. Fits standard single gang box. Switch suitable for 115 volt supply. 20 amp rating.

NEW!! Now includes removable faceplates in White, Ivory, and Light Almond to match any decor. Includes white switchplate only.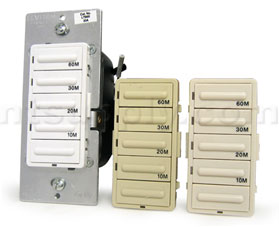 Features:
Can be used as Single-Pole or 3-Way
Pigtail wiring
Commercial Grade
Quiet, electronic accuracy and reliability
No moving parts to break or wear out
Ideal for new construction, retrofit or remodeling
Decora durability impact-resistant thermoplastic
LEDs indicate elapsed time and flash during final 2 minutes
Suitable for controlling all types of lighting and motor loads within rated capacity
Switch rated at 1800 watts incandescent or 20 amp 1 H.P. @ 120 volts 60Hz
Once activated, timing can be easily changed by pushing another time increment or the OFF button
Neutral conductor is required
NOTE:
Neutral wire required within junction box for switch operation.