Ebac K100P Dehumidifier



Product
Our#:
112848
Mfg:
Ebac
Mfg#:
K100P
Availability
NO LONGER AVAILABLE
Questions? Call Toll Free (866) 764-9900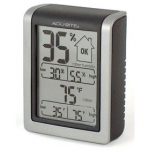 Free Jumbo Display Digital Hygrothermometer with purchase of Ebac Dehumidifier

Because of Ebac's unique "Hot Gas" defrosting feature, the Ebac K100P will function smoothly in temperatures down to 33F degrees without frost build up. Designed to survive under adverse conditions and to deliver the goods. This unit will efficiently remove more than ninety seven pints of airborne water vapor per day under standard conditions (80ºF, 60%RH), and will exceed 21 gallons per day under the extreme conditions found in problem environments.
The Ebac K100P is a versatile workhorse designed to eliminate high humidity problems in harsh environments. Warehouses, storerooms, electrical & communications switching stations, locker rooms, basements, pumping stations, offshore oil rigs and active and laid up marine vessels have all found this rugged unit to be equal to the task. The impressive K100P can be easily moved from site to site or can be permanently mounted and ducted to suit a variety of applications.
Features:
A rugged epoxy-coated, steel chassis.
A "floating" compressor for vibration & mobility protection.
An adjustable humidistat, to control the level of dryness desired.
System lamps to tell the operating status of the unit at a glance.
Ebac's unique "Hot Gas" defrosting systems.
Standard 115v power requirement for operations in any location - dedicated 20 AMP circuit recommended
Lightweight
Condensate Pump (20' vertical lift, 100' + horizontal)
Air Filter
Electronic Defrost Timer
Reverse Cycle Defrost
Specifics:
Height: 17
Width: 28
Depth: 18
Weight: 138
Voltage: 115v / 60Hz. / 1ph
Running Amps: 8.5
Airflow: 700 cfm
Refrigerant: R22
Compressor: Reciprocating
EER: 10.8
BTU/HR: 12,000
Operating Range: 33F - 105F
Capacity: 97 ppd@AHAM 20 Gallons at saturation

National Trade Supply is one of the largest EBAC Dealers in the United States. We stock many of the EBAC products and accessories in our own facility providing you with a quicker turnaround time and instant tracking information on your order. We have installed EBAC units in a variety of applications and can offer expert advice on how to properly install yours. We are also an authorized service center for EBAC products and can offer warranty service and replacement parts.

Whenever there is a need for fast, dependable, energy-efficient drying, Ebac and National Trade Supply can provide the solution.
***Note: Our shipping arrangement for the Santa Fe includes palletizing and shipping via an LTL freight carrier. There is a very high risk of damage when the unit is shipped via a small package carrier such as UPS. This shipping offer includes "to the curb" delivery. Freight carrier will call to set up a delivery window and someone must be present to sign for the delivery.
Click here for more shipping details on the Ebac dehumidifier.