Ebac BD150-CR Dehumidifier



Product
Our#:
112841
Mfg:
Ebac
Mfg#:
BD150-CR
Availability
NO LONGER AVAILABLE
Questions? Call Toll Free (866) 764-9900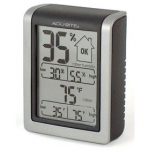 Free Jumbo Display Digital Hygrothermometer with purchase of Ebac Dehumidifier

Whenever there's a need for fast, reliable and energy efficient drying. Ebac has the answer. In new building contruction, in renovation or alteration of existing buildings, or in special circumstances such as flooding, there is no quicker, surer or more economical way to reduce moisture content without risk of damage of the buildings materials.
The Ebac BD 150CR can reduce drying times by as much as two thirds depending on conditions, and reduce the costs of drying by conventional heating by as much as 70%! The Ebac BD 150CR Building Dryer and Dehumidifier is a rugged, yet mobile piece of equipment that will operate under extreme conditions and pull large amounts of moisture from the air. In high humidity cases, the Ebac BD 150CR has removed almost 27 gallons of water in a 24-hour period! This dehumidifier is best:
To accelerate the drying of new and renovated construction interiors, (once weathertight), to enable plaster, drywall, masonry, paint and carpet to be quickly completed.
To restore rather than replace carpets in flood-damaged areas.
To dry out basements.
To maintain a comfortable locker room environment.
To safeguard stored goods from mildew, deterioration, and rot.
To control the sensitive environment of computer rooms, laboratories, and vaults.
Features:
Simplicity of operation. Standard 115 v. plugs in anywhere.
Large wheels and integral handle for mobility.
Heavy duty galvanized steel chassis.
Ebac's "HOT GAS" defrosting feature which automatically eliminates frost build-up providing effective operation at low ambient temperatures.
Super high efficiency rotary compressor
Exterior epoxy powder-coated finish
Hours run meter
Internal condensate pump (not included with the BD 150)
Rugged trolley for portability
Extra long power cord
Specs:
Horsepower: 1
Refrigerant: R-22
Fan: 1/2 HP
CFM: 650
Volts: 115
Running Amps: 8.5
Capacity: 67 ppd@AHAM, 27 gallons at saturation.
Dimensions: Height: 36", Width: 24", Depth: 24"
Weight: 140 lbs.
Power Supply: 115V/ 60Hz/ 1ph
Operating Range: 41 °F - 100 °F
---
National Trade Supply, LLC is one of the largest EBAC Dealers in the United States. We stock many of the EBAC products and accessories in our own facility providing you with a quicker turnaround time and instant tracking information on your order. We have installed EBAC units in a variety of applications and can offer expert advice on how to properly install yours. We are also an authorized service center for EBAC products and can offer warranty service and replacement parts.
Whenever there is a need for fast, dependable, energy-efficient drying, Ebac and National Trade Supply can provide the solution.
***Note: Our shipping arrangement for the Santa Fe includes palletizing and shipping via an LTL freight carrier. There is a very high risk of damage when the unit is shipped via a small package carrier such as UPS. This shipping offer includes "to the curb" delivery. Freight carrier will call to set up a delivery window and someone must be present to sign for the delivery.