Fan-Air Model F80210 Air Extractor & Dehumidifier System



Product
Our#:
176858
Mfg:
BURKE Manufacturing
Mfg#:
F80210
Availability
In Stock
Note: this product not elligible for shipment to Alaska, Hawaii or Puerto Rico.

Fan-Air Model F80210 Air Extractor & Dehumidifier System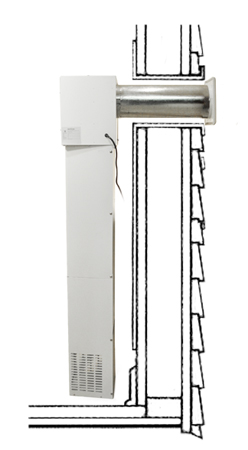 Too much humidity in your basement? The Fan-Air System is the solution for excess humidity.

High moisture levels will create mold and mildew that can be harmful to your family's health and the value of your home. Are you plagued with these problems?

* Dampness and moisture on walls
* Basement odors
* A cold and damp basement
* Visible mold and mildew
* Peeling paint and deteriorating windowsills
* Window condensation and ice in winter

The Fan-Air System is an ideal products to remove that excess moisture from our home's lower levels by expelling the damp air and drawing the drier, healthier air down from the upper levels into the lower levels. By doing so, it will create a comfortable, healthier, pre-set level of humidity in the basement and lower floors.
Features and Benefits:


Reduces mold, mildew and unpleasant odors
Reduces structural damage and window condensation
No water to empty and no drain hose required
Consumer-friendly step by step installation instructions
State-of-the-art electrical control
Energy efficient - consumes less electricity than a 60 wattt light bulb
Environmentally friendly
Maintenance free
Fan control is completely automatic - the state-of-the-art circuit board can detect amount of humidity within + / - 1%
2 pre-set seasonal settings for Summer and Winter
In a 2,400 sq. ft. home, one unit will remove moist air and replentish it with fresh, dry air by exchanging the air approximately 10 times daily
2-Year Factory Warranty
Specifications:
Voltage - 115 V
Energy Consumption - 47 Watts
Frequency - 60Hz
Noise Level - 53.50 dB
Overall Height - 57" (1.44 m)
Width - 10" (25 cm)
Depth - 10" (25 cm)
Weight - approx. 27 lbs
Airflow - 208 CFM on High Speed / 60 CFM on Low Speed
Serviceable Area Capacity - 2,400 sq. ft. per unit
Installation Notes:
The unit should be installed on the inside of an outside wall to allow an outside exit for the exterior vent hole. The distance between the unit and the exterior vent hole should be no more than 24". Install in crawlspaces so that ther is a minimum of 24" from the bottom of the unit to the floor of the crawlspace to prevent dirt or debris from entering the fan. In basement installations - do not install where fan is less than 39" from the floor of the room.
The Fan-Air System should be installed between the 2 x 10 or 2 x 12 floor joists of the basement ceiling. The evacuation pipe leaves the home and vents outdoors through a 6-1/4" diameter hole. An exterior, 6" louvered vent is included.