Aprilaire / Space-Gard #410 MERV 11 Replacement Filter



Product
Our#:
180074
Mfg:
Aprilaire
Mfg#:
410
Availability
In Stock
Aprilaire / Space-Gard #410 High Efficiency Filtering Media (Single Filter)

Fits the following Aprilaire Air Cleaner
Model 2400 after upgrading with #1413 Media Upgrade Kit
Model 2140 after upgrading with #1413 Media Upgrade Kit
Model 1410
Model 2410
Model 3410 (new premium model with electronic control)
Model 4400 (old premium model with electronic control)
Newly designed media features:
Traps and permanently removes over 90% of pollen-sized particles (5.0 microns) and over 90% of mold and spore-sized particles (3.0 microns).
Collapsible media with self spacing pleats installs in seconds.
Media replacement is recommended after 6 months depending on air flow.
SelfSeal dramatically reduces air bypass, improving filter performance.
Rated MERV 11
Airflow Capacity up to 2000 CFM Maximum
Filter Length - approximately 28"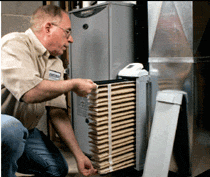 No pleat spacers - media slides right in!!

Instructions:
1). Turn home thermostat mode to "OFF' and fan mode to "AUTO"
2). Remove Air Cleaner door
3). Remove dirty filter
4). Expand clean filter
5). Install new (clean) filter with Air Flow arrow pointing toward furnace or air handler. Align filter top and bottom rails and slide into place. Replace door
6). Press reset on air cleaner control
7). Return home thermostat to original settings