Aldes Through The Wall Ventilator - TTW - 100



Product
Our#:
175825
Mfg:
American Aldes
Mfg#:
TTW-100
Availability
NO LONGER AVAILABLE
Aldes Through The Wall Ventilator - TTW - 100 (89 510)


American ALDES Model TTW - 100 is a high efficiency through the wall fan designed for extracting air from small to medium sized spaces and garages. It is ideally suited for simple retrofit or new construction installations. This technically advanced and cost effective unit is designed for continuous or intermittent operation. The TTW - 100 provides an economical solution for a broad range of applications where central ventilation may not be practical.

The TTW -100 can be ceiling or wall mounted with concealed screws and has an ABS plastic body. The 7 blade impeller is designed for very low noise levels (35dBA 3m).

Features:

Perfect for removing fumes and vehicle exhaust from your garage
Suited for simple retrofit or new construction installations
Includes washable foam filter
Only consumes 17 watts
Unit will be hardwired to 110V AC power source and installed through 5" opening or ductwork
Sleeve can be expanded from 6" to 10-1/4"
SPECIFICATIONS:
7-3/8" Square
7-1/2" from back to front - can be extended using standard round 5" ductwork
CFM - 70 Wth Filter Installed / 108 Wthout Filter Installed
Electrical Connection - Hardwired through 1/2" knockout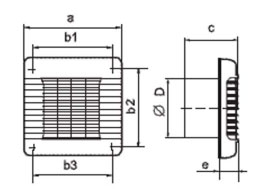 A = 7-3/8"
B1 = 6-7/8"
B2 = 5"
B3 = 6-7/8"
C = 3-3/4"
D = 4-7/8"
E = 1-1/8"