16x20x5 AIRx ODOR Honeywell FC100A1003 Replacement Air Filter - Carbon
(case of 2 Filters)



Product
Our#:
183043
Mfg:
AIRx
Mfg#:
16x20x5HW-ODOR
Availability
3-4 Weeks to Ship
Is this the right air filter for you?
If you want to remove stale, unpleasant odors from the air in your home, this is the air filter for you! The specialized media in the filter attracts and captures odor carrying particles and gases, and is the perfect solution for pet owners and smokers. You won't find these specialized air conditioner or furnace filters at your local hardware store. We offer convenient online ordering and quick shipping right to your door!
Quality 5" pleated air filter offers improved filtration and longer service life over common 1" filters
Removes odors from pets, cooking/food, new paint, new carpet, bathroom smells, cigarette and cigar smoke
Replaces the Honeywell FC100A1003 - nominal size 16x20x5
Replace every 6 months under normal use
Made with pride in the USA
Fast Shipping and Free Returns on all filters
What does this air filter remove?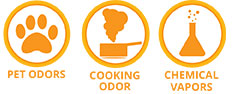 What part numbers does this filter replace?

Honeywell FC100A1003, 209894, FC35A1035
Accumulair DPFW16X20X5OB
National Filter Sales PF-04-162005HW-2
What air cleaners does this air filter fit?
Honeywell F100F1004, F150E1008, F100B1000, F100F2028, F200F2028, F200E1003


Do you want to know about the technical specs?
| | |
| --- | --- |
| Nominal Dimensions | 16 x 20 x 5" |
| Actual Dimensions | 15-3/4" x 19-1/2" x 4-3/8" |
| Filter Media | Carbon impregnated synthetic media |
| Filter Support Grid | 30 gauge galvanized expanded metal grid |
| Frame | Moisture resistant double-wall beverage board |
| Max Temperature | 180F (82C) continuous service, peak 225F (107C) |
| Max Humidity | Resistant to 100% R.H. |