AIRTEC MV3 3-Way Diffuser Grille for 6/7/8" Duct



Product
Our#:
112204
Mfg:
Airtec
Mfg#:
MV3
Availability
NO LONGER AVAILABLE

MV3 3-WAY GRILLE
. Ceiling diffuser grille with adjustable collar. 3-way assembly.
NOTE:
Product includes adjustable airflow damper - but no backdraft damper. See related products for
backdraft dampers
.
The Model MV with its unique design and contractor friendly engineering saves money by reducing installation time by up to 80%. A Diffuser, Boot and Damper all in one, it installs in seconds with just a few easy steps.
FEATURES:
- Will accept 6, 7, and 8 inch duct sizes using tear-away bands so there is no cutting required.
- Mounting clips rotate into position securing the unit to the ceiling material quickly and easily.
- An adjustable fixed-position damper allows you to regulate the mount of air moving through the grille.
- Includes 1 tie strap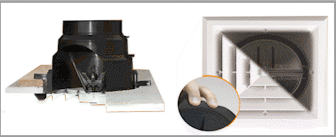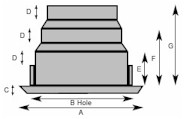 A= 11 1/4
B= 9 1/4
C= 3/4
D= 1 3/8
E= 3 1/4
F= 5 1/4
G= 7 1/4