Airflow Breeze Baseboard Register Booster Fan - 18"



Product
Our#:
176507
Mfg:
Airflow
Mfg#:
AirflowBaseboard
Availability
In Stock
Airflow Breeze Baseboard Register Booster Fan - Fit 18" Registers - Almond Only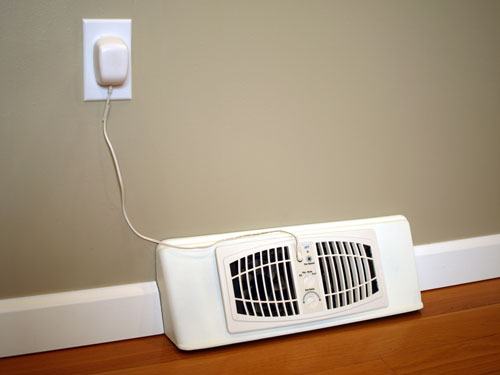 Airflow Breeze Baseboard Register Booster Fan - Designed for 18" Baseboard Registers. Includes Almond Airflow Breeze Booster Fan, Power Adaptor, and Baseboard Adaptor.
Do you have a "problem room"?
The temperature of a "problem room" fails to match the thermostat, so it's chilly in winter or hot in summer-or uncomfortable in both seasons. Problem rooms can have many causes, but often rooms distant from the central furnace/air conditioning unit are difficult to heat and cool effectively.
The AirFlow Breeze solves problem rooms!
After removing the existing baseboard register, the AirFlow Breeze mounts in it's place and pulls extra air from the duct to raise or lower the temperature of a room by 3-5 °F. As a result, the AirFlow Breeze restores comfort to the vast majority of problem rooms - in both winter and summer. Once you set your target comfort level, the built-in temperature sensor takes over. It will direct the powerful, yet quiet fan to pull extra warm or cool air out of weak registers, increasing air flow, and delivering the comfort you demand.
Installation is a breeze!
Remove the existing baseboard register. Pace the baseboard adapter in the vacant location and mark two mounting points for either wall mount or floor mount. Snap AirFlow Breeze fan unit into the baseboard adapter. Install the two included screws - then secure the adaptor using two "keyhole" slots in rear brackets. The AirFlow Breeze is powered from the front with the included 6' power cord.

Save energy!
There's no need to adjust the temperature of the whole house and waste valuable energy when you can solve your "problem room" with the AirFlow Breeze! A register booster fan that costs only $5.00 year year to operate, the AirFlow Breeze pulls virtually free extra heat and air conditioning from your central air system! It also typically eliminates the need for space heaters or room air conditioners, resulting in additional savings of energy and money.
FEATURES:

Material: Flame-retardant plastic
Power Requirements: 115 VAC converted to 12VDC 500mA (6' power cord included)
Power Consumption: 8 Watts
Fan Speed: The AirFlow Breeze has three fan settings
Fast Speed 100 cubic feet per minute (cfm)
Medium Speed 70 cubic feet per minute (cfm)
Slow Speed 40 cubic feet per minute (cfm)
Temperature setting range: Heat or Cool
Vent Finish: Almond
UL Approved
Covered by a one year limited warranty from date of purchase
Comes complete, easy to read instructions.