AIRx Replacement UVC bulb for Honeywell UC36W 1006



Product
Our#:
184658
Mfg:
AIRx
Mfg#:
UV002
Availability
In Stock
AIRx Replacement Bulb for Honeywell® UC36W1006 Ultraviolet Lamp
This replacement lamp fits multiple Honeywell® UV systems. This lamp does not include the handle/knob (bulb only). Overall bulb length is 15-7/16" inches, glass length measures approximately 14-3/16" inches. The bulb has has two glass tubes fused together and two filaments, each tube is ¾" in diameter.

Features:
Replacement UV-C lamp for Honeywell UC36W1006
1 year effective life
Lamp length with prongs - 15-7/16"
Replace lamp annually
4 Pin - 2G11 base
Note: Bulb/Handle assemblies manufactured before 2005 do not have a detachable bulb. Bulb/Handle assemblies with the detachable bulb are labeled as such with sticker referencing bulb part number UC36W1006 (see image below)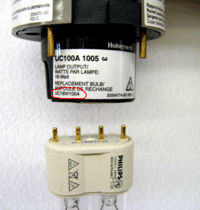 Honeywell® is a registered trademark of Honeywell International, Inc. Morris Plains, NJ. - National Trade Supply, Inc, DiscountFilters.com and AirX are not affiliated with Honeywell International, Inc.This is not a Honeywell OEM product and is not covered under any Honeywell manufacturer's warranty. Any use of the Honeywell brand name or model designation for this product is made solely for purposes of demonstrating compatibility.