14x20x5 AIRx ALLERGY Honeywell FC40R1110 Replacement Return Grille Filter - MERV 11
(case of 2 Filters)



Product
Our#:
174742
Mfg:
AIRx
Mfg#:
14x20x5HW-ALLERGY
Availability
3-4 Weeks to Ship
14x20x5 AIRx ALLERGY Honeywell FC40R1110 Replacement Return Grille Filter - MERV 11

14" x 20" x 5" (actual size 13 3/4" X 19 3/4" X 4 3/8")

MERV 11 - Not Manufactured By Honeywell

The replacement for the FC40R Return Grille Filter is a high-efficiency, long-life replacement for return grille applications. It captures a significant amount of the airborne particles in the air that circulate through the filter. (Honeywell recommends allowing a depth of seven inches behind the grille to provide space for the deeper filter and airflow through the filter.)
Honeywell recommends changing your filter once a year. It may be necessary to replace it sooner depending on the conditions in your home.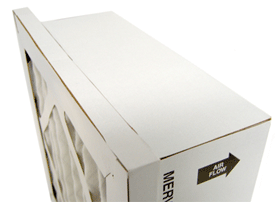 Filter features 1" lip around upstream side

FEATURES
. Mounts in most third party return filter grilles (features integral gasket around upstream side of filter).
. Provides high-efficiency alternative to one-inch filter.
. Captures particles as small as 0.3 micron.
. Pleated filter for greater media capacity.
. Easy installation. Pre-assembled filter easily inserts into and out of existing return grille.
. Exclusive frame design nests properly into place.
. Low pressure drop reduces strain on equipment, provides a comfortable air flow and maintains equipment efficiency longer than standard filters.