Braeburn Thermostats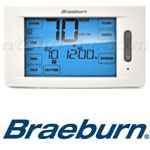 The
Braeburn
"Quality by Design" product philosophy focuses on core engineering, manufacturing and reliability testing processes to ensure you receive the product quality you can count on when choosing a thermostat. Braeburn thermostats offer the features you'd expect from an industry leader and a value price that will surprise you!
Unique Braeburn Features:
Amazing Large Diplays: display characters are up to 200% larger than many competive thermostats.
Tamper-Proof Setpoint Limits: a unique limiting feature on select models prevents tenants, family members, or any unauthorized user from cranking up the setpoint in the winter or cranking down the setpoint in the summer. This is a great feature for landlords, building managers, or anyone who wants to save on energy costs!
SpeedBar® Multi-Function Button: select models feature the SpeedBar® button - which makes setup and programming incredibly easy!
Quick Reference Instruction Card: all models include a quick reference card that tucks away into a slot on the top of the thermostat
Five Year Warranty: The best warranty in the business!
Braeburn produces both
programmable
and
non-programmable thermostats
.
Braeburn produces thermostats for
conventional - single-stage systems
and
heat-pump and multi-stage systems
.
If you aren't sure which kind of system you have - can call us at 866-764-9900 or consult with your local HVAC contractor.
Considering replacing your own thermostat?
Watch our Thermostat Installation Video