Why Do I Need Ventilation?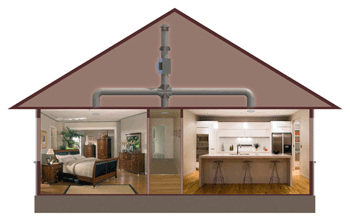 Why Do I Need Ventilation?

With new technology, homes today are designed to be airtight and more energy efficient than ever before. While this results in fewer drafts and lower heating and cooling bills, the airtight design does not allow for proper ventilation of harmful pollutants that can accumulate in a home. Over time, stale air contaminated daily by a collection of pollutants has proven to be harmful for the people and animals living in the home.
Sources of pollution extend far past the obvious chemicals like paint fumes, asbestos, and pesticides. Cleaning fluids, building materials, and preservatives used in furniture and carpets can all contribute to poor indoor air quality. Also, everyday items like hairspray, oven cleaner, and bug spray can add to this toxic mixture of trapped pollutants.
To some degree, biological pollutants such as mold, mildew, pollen, and dust are found in all homes. These biological pollutants thrive in moist, humid environments. These minor hazards, when in large quantities, not only create poor air quality, but they can also reduce the structural integrity of a home. Proper ventilation can nearly eliminate these threats and create cleaner, safer air conditions.
Improving indoor air quality is a two-process job, but with a little information it doesn't have to be a difficult one. The first step in creating fresh, clean indoor air is removing as many of the sources as possible. Remove unnecessary pollutants from the home such as paint or other chemicals, and place them in a shed or garage. With attached garages, be sure there is an airtight seal between the garage and home so that efforts to remove the sources of pollution are not offset.
The next step in improving a home's air quality involves mechanical ventilation. Experts agree that passive ventilation through vents is not a reliable method of replenishing a building's air supply. Used to remove moist, stale, polluted air and replace it with air from the outside, mechanical ventilation is the best way to insure clean, fresh, safe air for the home. Continuous and intermittent ventilation are two types of approaches commonly used for combating poor air quality.
More About Home Ventilation
As explained earlier, mechanical ventilation can be used in two ways: intermittent and continuous run. Each kind of ventilation has a specific purpose depending on whether you are ventilating a specific room or the whole house.

Intermittent ventilation, sometimes called spot, local or secondary ventilation, is used to capture and remove moisture or odors quickly at the source. The purpose is to exhaust pollutants before they can spread to other parts of the home. Areas that might require this type of ventilation include the bathroom, kitchen, utility room, exercise room, workshop and home office.

Continuous ventilation, also referred to as general, central, whole-house or primary ventilation, removes stale air and may provide fresh air to all rooms on a slow continuous basis. A well-designed airtight home should include a mechanical continuous ventilation system.

Products that offer both continous and spot ventilation:

Some Panasonic WhisperGreen fans will run at low speeds all the time AND offer a high speed ventilation boost.

Model FV-08VKM2 runs continuously at low speed (as low as 30 CFM) and uses a motion sensor to boost the fan to 80 CFM when motion is sensed in the space where the fan is installed. The model FV-08VKML2 is the same fan but includes a light and nightlight.

Model FV-08VKS2 runs continuously at low speed (as low as 30 CFM) and can use any common switch to boost to 80 CFM on damand. Model FV-08VKSL1 is the same fan but includes a light and nightlight.

A more balanced product that exhausts stale air AND brings in fresh air is the Panasonic WhisperComfort ERV - Model FV-04VE1 . This product installs much like a bath fan, but has an extra INTAKE duct running to the outside of the house which brings in fresh air while stale aire is being expelled.
American Aldes VentZone systems:
We are now offering a number of ventilation packages from American Aldes that use a unique ceiling grille called a Zone Register Terminal (ZRT). Special ZRT's allow a small amount of air to leak out of the home 100% of the timer. When spot ventilation is needed - a motorized damper in the ZRT opens to allow a boosted amount of air to be ventilated. Click here to learn more about American Aldes "VentZone" ventilation packages.
Airetrak 62.2 Continuous Ventilation Control:

It relatively easy to convert your existing fan to a continuous ventilation solution using the Tamarack Technologies Airetrak 62.2 control. Your existing wall switch provides full air flow capacity of your new or existing bath fan. By matching one of the Airetrak 62.2 fan controls with the bath fan, you can easily convert that fan into an economical ventilation system. The control spans the two poles of your existing switch so that your fan runs 100% of the time even when the switch is in the "off" position - but at very low levels. When the switch is turned to the "on" position - your fan runs at full speed, just as it normally would. This is a very economical, simple way to provide continuous ventilation with fans you already have!