What's new with the Aprilaire 1750 and 1770 Dehumidifiers?
What's new with the Aprilaire 1750 and 1770 Dehumidifiers?

This article will discuss some of the new features found on recently introduced dehumidification products from Aprilaire.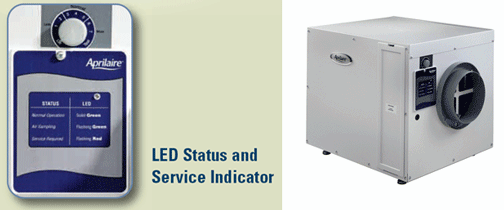 Aprilaire has stopped manufacturing their popular models 1700 and 1720 whole house dehumidifiers. Two new models are now available:
The 1750 Whole House Dehumidifier - 3.91 lbs/hr (90 Pints/Day) Capacity @ 80°F & 60% RH
The 1770 Whole House Dehumidifier - 6.52 lbs/hr (150 Pints/Day) Capacity @ 80°F & 60% RH

In terms of outward appearance, the new models look a lot like the old models. They are dimensionally identical to the old 1700 and still include duct collars on the intake and exhaust Like old models - these new units have the unique ability to interface with central HVAC systems.

Obvious visible changes to the new models include an updated case color (used to be a light yellow and is now light gray) and a LED display panel found under the control knob.
The new LED display "status" panel was added to the unit to provide instant, easily understood feedback / validation on the unit's operation and performance. This LED status and service indicator tells you when the unit is running normally, sampling, defrosting and when it is in need of service. You no longer need to ask - "is it working?"
While the LED status panel is easy to see and understand, many of the other changes to these new models occurred "under the hood" and can't bee seen from the outside of the unit. The invisible changes and enhancements turn out to be the most substantive. As of result of these "core design improvements" to these units Aprilaire now offers a 5 year bumper-to-bumper warranty (the warranty used to be limited to 2 years).

The new units have a 15+ year life expectancy due to improvements as a result of:

* Extensive lifecycle testing - including application of vibrations, frequency harmonics, and forces up to 60g.
* Extensive coastal condition testing on electronics and controls

The locations of control and power boards have changed. There have been some slight changes to the configuration of the refrigeration system within the unit. All of these changes together make for a dehumidification solution with unmatched durability and longevity.