Thermostat wiring information
The following article is intended to answer some questions about the most common thermostat configurations out there - but may not apply to everyone. As alway, we would advise you to consult a professional when working with electricity, and HVAC systems. Please note: These "do-it-yourself" guidelines are provided as an overview, and should not be used as the sole instructions for installing a thermostat. Always read and follow the manufacturer's directions. National Trade Supply, LLC cannot be held responsible for injuries or damages resulting from these instructions.
CLICK HERE FOR INFO ON MULTISTAGE AND HEAT PUMP THERMOSTAT WIRING
For a homeowner, it is often difficult to determine what new thermostat would be compatible with an existing old thermostat. It is not impossible, but very difficult to determine compatibility with an existing thermostat simply by cross referencing a model number. Additionally, most consumers are not fully aware of the type of heating and cooling system they have.
Our experience has been that the easiest way to determine thermostat compatibility is to look at the wires coming to the existing thermostat . If we can count the wires, and if we know which terminals they connect to - we can find a replacement thermostat with a large degree of success.
A note on thermostat wiring colors: Although it is typical and usual for installers to use certain color wires for certain functions (red wire usually goes to the "R" terminals) - the color of the wire is meaningless. A wire is just a wire, and its color is not necessarily indicative of the function of the wire.
Around 65% of the time - the heating/cooling system will be a conventional forced air system with a gas furnace and a air conditioner. In this case, the wiring would look like this: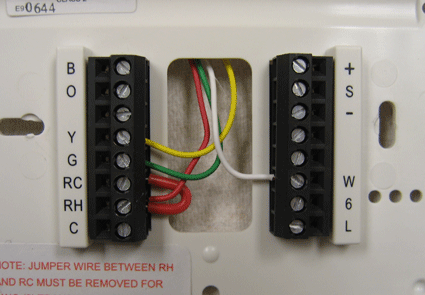 There are a total of 4 wires coming out of the wall:
Wire coming to the RH, RC, or R terminal - usually red - The red wire is the source hot wire from the transformer on the heating/cooling equipment. The function of the R terminal is to energize the other terminals, depending on what mode the thermostat is in, or whether the thermostat is calling for heating, cooling, and/or fan operations. If you see a RH and RC terminal, you will normally also see short jumper wire between them. In most cases the heating and cooling system share a single transformer. The only time this jumper would be removed is if the heating and cooling system both have their own transformer (this could be the case if a central AC system was added to an old home).
Wire coming to the G terminal - usually Green. This is the fan relay - when energized, it will turn on the system fan/blower.
Wiring coming to the Y terminal - usually Yellow. This is the compressor relay for cooling. When energized, it will turn on the AC.
Wire coming to the W terminal - usually White. This is the heating relay. When energized, the heating system will start up.
There are LOTS of possible replacement thermostats for a wiring configuration like this. Because this is the most common set up - it is also the "sweet spot" for thermostat selection and there are lots of makes and models available that will fit the bill - depending on what features you are looking for (programmable vs. non-programmable, manual or auto-changeover, etc.).
Some important points:
Thermostats that will accept just 4 wires as shown above are often called "1 Heat / 1 Cool" thermostats or "Single Stage" thermostats. THis is because they lack the terminals that would be able to control multi-stage heating or cooling equipment.
Digital, programmable thermostats like those described above almost always use batteries for power. Unless you have a fifth "common" wire coming to thermostat (usually terminating at the "C" or "X" terminal) you will need a battery powered thermostat. There are exceptions (power stealing thermostats), but for the most part you are going to need either batteries or the fifth wire to provide power to the thermostat to do things like lighting the deplay, closing switching relays, keeping the program, etc.. This power issue is a large source of confusion. To hedge your bets, it's not a bad idea to select a thermostat that has "dual power" functionality (uses battery or common wire). Examples of these would be:
MODERN THERMOSTATS AND ONBOARD SOFTWARE:
Wiring a new thermostat properly is really just half the battle. Most of the higher end thermostats require system software setup for the system they are controlling. Below is an example of the installer setup menu from a Honeywell VisionPro thermostat. The thermostat comes from the factory set up for 1 heat / 1 cool conventional operation. If you have a multistage system or a heat pump, you MUST set up the thermostat to control your system by switching a value in the setup menu. This "system type" switch is just one of many in the installer setup options that allow you to customize the way the thermostat behaves.