Centralized Ventilation - Ventilation and Fresh Air for your Home
NEW!! - Check out VentZone Central Ventilation Product from American Aldes!

Tight, well insulated homes save energy. They also tend to trap pollutants indoors. It becomes important to provide a mechanism, or system to prevent indoor pollutants from concentrating AND to introduce fresh air from the outdoors into the living space. Recently - a new standard has been proposed by ASHRAE ( American Society of Heating, Refrigerating and Air-Conditioning Engineers) to set guidelines for ventilation in residential structures. ANSI/ASHRAE Standard 62.2, Ventilation and Acceptable Indoor Air Quality in Low-Rise Residential Buildings, is the only nationally recognized indoor air quality standard developed solely for residences.
The primary requirements of this 62.2 standard include whole-house ventilation, local exhaust fans and pollutant source control. According to the standard, a residence must have a mechanical ventilation system as laid out in Table 1 below. The average house will require the equivalent of between 45 and 75 cubic feet per minute (cfm) of mechanical ventilation.
The 62.2 standard is not necessarily part of building code everywhere - but homeowners may be looking for products to help them achieve something close to the standard in terms of mechanical ventilation.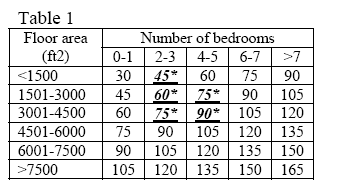 One option for ventilation / fresh air is a Heat Recovery Ventilator or Energy Recovery Ventilator. These products work well - but the installation of an HRV/ERV may be more than an average do-it-yourselfer is willing to tackle.





Using Inline Fans to Power Central Ventilation Systems:

Inline fans are taking the place of traditional bath fans because of their quiet operation and robust performance characteristics. With some common installation materials - a single inline fan can be turned into a ventilation solution for multiple areas in the home. These areas don't necessarily have to be limited to bathrooms. A system where one fan can be leveraged to ventilate/exhaust multiple areas has 2 obvious advantages:
1), Low cost - only a single fan needs to be purchased
2). Minimal penetrations to the outdoors - only a single roof cap or wall cap is needed to ventilate the system

A central ventilation / multi-area ventilation system can be created by mixing different product types together. A standard, single port inline fan can be used with a "WYE" connector and several grille assemblies to create a solution. We offer several pre-assembled kits from Fantech that include all of these components in a single box. Examples: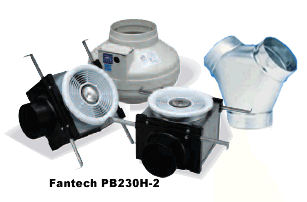 The Fantech PB230-2 kit includes
(1) 230 CFM Bath Fan
(2) 6" Ceiling Grilles
(2) Grille Housing with Damper
(8) Hanger Bars
(1) Fan Mounting Bracket
(1) WYE-Adaptor (4x4x6)

There are also kits like the above available with lights - the PB230H-2 includes halogen lights in each grille, and the BP230F-2 includes fluorescent lights.
An alternative way of creating a multi-port ventilation system is through the use of a multiport fan. A multi-port fan does not require the use of "WYE"s and other external connectors - because the fan ports are built into the fan.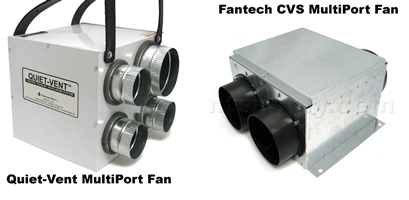 Multi-port fans can exhaust up to several points and multiple applications into one central point without the use of adapters or transitions. The fan is both statically and dynamically balanced as one integral unit, for vibration-free and whisper-quiet performance.

These fans will include one exhaust duct - and several inlet collars in common duct sizes (4", 5", 6"). Again, only one exterior penetration is needed. There are many exhaust grille choices that are sure to meet any functional or aesthetic need. We carry a large selection of interior grilles, which can be ceiling or wall mounted.

Fans like those pictured on the left can be wired to allow switching from multiple locations. The Thermastor Quiet-Vent multiport fan adds additional functionality with a programmable timer. This allows the fan to run on low speed on a programmed basis - and then boost to high speed when any switch is engaged.


How to wire switches from multiple locations:

Many customers interested in a multi-location ventilation scheme are unsure about the switch wiring. Below, we have posted a simplified wiring diagram for providing switched power from different locations. This diagram shows simple, single pole mechanical switches or timers being used. If an electronic timer is used - a neutral wire must also be brought to the switch location to power the switch. All switches must be on the same electrical circuit, of course.



The Bad News:
There is one big problem with the ventilation strategies mentioned above - which is the inability to control where the ventilation is happening. One the fan is powered up - it is going to pull air for ALL exhaust points. In other words - the ventilation is not "zoned" - or limited to just the area with the ventilation need/demand.

The Good News:

We have just introduced a line of product from American Aldes Ventilation Corp that provide on-demand, zoned ventilation. CLICK HERE TO FIND OUT MORE!

Don't forget about make-up air!!



Under certain conditions (especially in very "tight" homes) too much air being exhausted may cause the backdrafting of undesirable air (or even combustion gases) into the home. Air leaving the home via the exhaust system must be replaced by "make-up" air. Strategically-placed passive inlets allow filtered, fresh air to flow into the home from outdoors. The introduction of fresh air from the exterior provides the make-up air to replace air being exhausted by a fan. Thus, indoor relative humidity levels are kept to acceptable levels and a healthy atmosphere is assured.
By locating the inlet near the ceiling, with and diffuser oriented upwards, the fresh air is directed to mix with the warmer air in the upper part of the room. By the time it reaches the occupied zone, it is well mixed and draft is not perceptible. Passive inlets should be located in bedroom and main living areas such as living, dining, and family rooms.